CarPlay at WWDC: Rearrange or Hide Apps, Apple Music Makeover, Alternate Routing, and More
While most of the WWDC 2016 keynote was focused on iOS 10, macOS Sierra, and new versions of tvOS and watchOS, Apple also made a number of CarPlay-related announcements during the two-hour presentation.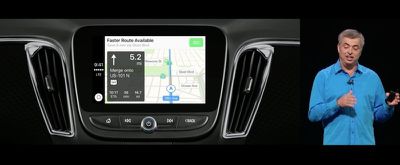 First, the new Apple Maps appearance on iOS 10 and some new features extend to the dashboard. If there is a lot of traffic ahead, for example, CarPlay will now proactively provide you with alternate routes and estimate how much time you saved compared to your original route.
Additionally, CarPlay turn-by-turn directions will now be available directly in your instrument cluster in vehicles equipped with a driver-side peripheral screen for a safer driving experience.


Another feature that should make CarPlay safer is the Siri SDK. Apple is opening Siri up to developers, enabling third-party apps for VoIP calling and more to work seamlessly with the virtual assistant, and the functionality extends to CarPlay.

Siri on CarPlay will support VoIP calls like Skype, which is not yet available in the car
CarPlay apps can now be rearranged or hidden on iOS 10 by tapping on Settings > General > CarPlay > Your Vehicle. Simply tap the add or subtract button on the stock or third-party apps that you want to add or remove. Phone, Music, Maps, Messages, Car, and Now Playing cannot be removed.

CarPlay apps can now be rearranged or hidden on iOS 10 (Image: 9to5Mac)
Just like on iOS 10, Apple Music has received a makeover on CarPlay that makes it easier to browse and discover music. The top menu options have changed from For You, New, Radio, Playlists, My Music, and Now Playing to Library, For You, Browse, Radio, and Now Playing. Curated playlists have also been added.

Apple Music has received a makeover on CarPlay (Image: 9to5Mac)
CarPlay is also now supported on ultra-wide screens. The new features and improvements will require pairing an iPhone 5 or later on iOS 10.
Many automakers in the U.S. and abroad now support CarPlay, including Acura, Audi, BMW, Buick, Cadillac, Chevrolet, Ferrari, Ford, GMC, Honda, Hyundai, Kia, Lamborghini, Lincoln, Mercedes-Benz, Mitsubishi, Nissan, Opel, Porsche, Peugeot, Seat, Škoda, Subaru, Suzuki, Volkswagen, Volvo, and others.
Aftermarket systems are available from Alpine, JBL, JVC, Kenwood, and Pioneer.