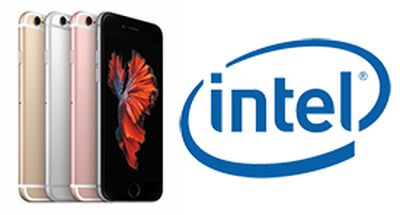 Intel will supply up to 50 percent of faster LTE chips, manufactured by TSMC and KYEC, for the iPhone 7 series expected to launch in September, according to DigiTimes.
Intel will itself package the modem chips for the upcoming new iPhones, but have contracted Taiwan Semiconductor Manufacturing Company (TSMC) and tester King Yuan Electronics (KYEC) to manufacture the chips, the sources said.
Apple's current LTE chip supplier Qualcomm previously hinted that it would be losing LTE modem orders from one of its major customers to one of its leading competitors, which increasingly points towards Apple and Intel respectively. Multiple rumors have hinted at the switch from Qualcomm to Intel since early 2015.
CLSA Securities analyst Srini Pajjuri issued a research note in March that said Intel has secured a "significant portion" of the LTE chip orders, likely in the range of 30 to 40 percent of production. Qualcomm is expected to be tasked with the remaining orders, but it will no longer be the primary supplier.
Intel reportedly has 1,000 or more employees working on preparing its 7360 LTE modem for the next-generation iPhone. Intel's 7360 LTE modem chip [PDF] features faster theoretical downlink speeds up to 450 Mbps, uplink speeds up to 100 Mbps, and support for LTE category 10 and 29 LTE bands overall.
For customers, the switch to Intel modems means the iPhone 7 could have faster LTE speeds for browsing the web, downloading apps, streaming video, and other data-related tasks. Apple already improved LTE speeds on the iPhone 6s series by adopting LTE-Advanced for downlink speeds up to a theoretical max of 300 Mbps.
Qualcomm has been Apple's exclusive supplier of LTE modems for over three years, including the MDM9635 chipset in the iPhone 6s and iPhone 6s Plus, which provides theoretical downlink speeds up to 300 Mbps and uplink speeds up to 50 Mbps. Real-world download speeds will vary.