Qualcomm Hints at Apple's Switch to Intel for LTE Modems in iPhone 7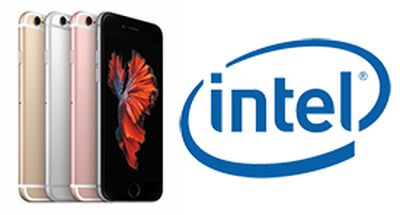 Qualcomm shares are currently trading lower after the chip maker suggested during an earnings call Wednesday that it will be losing orders from one of its major customers to one of its leading competitors.
Analysts believe that customer will be Apple, according to Bloomberg, following rumors that the Cupertino-based company will rely on Intel to supply the majority of LTE modems for the iPhone 7, which is expected to be announced at a media event this September.
Qualcomm Chief Executive Officer Steve Mollenkopf told analysts he is "assuming" that a major customer will give orders to a rival, indicating a potential loss of business for the company. […] Samsung already uses multiple suppliers, leaving only Apple to make this change.
In early March, CLSA Securities analyst Srini Pajjuri issued a research note claiming that Intel has secured a "significant portion" of LTE chip orders from Apple, likely in the range of 30 to 40 percent of production. Pajjuri believes Qualcomm will likely be tasked with at least a portion of the remaining orders.
Intel reportedly has 1,000 or more employees working on preparing its 7360 LTE modem for the next-generation iPhone. Intel's 7360 LTE modem chip [PDF] features faster theoretical downlink speeds up to 450 Mbps, uplink speeds up to 100 Mbps, and support for LTE category 10 and 29 LTE bands overall.
The switch to Intel LTE chips means the iPhone 7 could have even faster LTE speeds for browsing the web, downloading apps, streaming video, and other data-related tasks. Apple already improved LTE speeds on the iPhone 6s and iPhone 6s Plus by adopting LTE-Advanced, which pushed downlink speeds up to a theoretical max of 300 Mbps.
Apple currently sources all of its LTE modems for iPhones from Qualcomm, including the MDM9635 chipset in the iPhone 6s and iPhone 6s Plus, which provides theoretical downlink speeds up to 300 Mbps and uplink speeds up to 50 Mbps. Qualcomm has been Apple's exclusive supplier of LTE modems for over three years.
Rumors suggest that Apple may eventually create an all-in-one system-on-a-chip that includes both an A-series processor and an LTE modem chip for improved speed and power management. Intel could play a key role in licensing and fabricating the chipset based on its advanced 14-nanometer process.