Tesla Unveils $35,000 Model 3 Electric Car, Shipping Late 2017
The highly anticipated Tesla Model 3 electric car was unveiled by Tesla CEO Elon Musk on Thursday night in a converted hangar in Los Angeles, California.
The company's first mass-market electric car was driven onto a foggy stage in an extravagant unveiling, where Musk revealed that the Tesla Model 3 will seat five, and be able to cover at least 215 miles on one charge.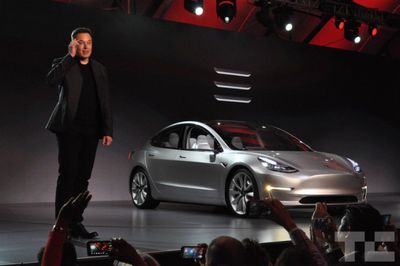 Tesla CEO Elon Musk unveils the Model 3 in Los Angeles (Image: TechCrunch)
Musk said the standard Model 3 would be capable of zero to 60 miles per hour in less than 6 seconds, and will cost $35,000, which is half that of the company's current flagship cars, the Model S sedan and Model X crossover.
Despite photo restrictions at the unveiling, TechCrunch was able to get some good shots of a red Model 3, which looks like a more sporty version of the company's Model S.


The Model 3 will also feature Autopilot for assisted driving and be future-proof for self-driving road use. Shipping begins late 2017, by which time Tesla says it will have doubled the number of charging stations worldwide and will include charging for free.


The Model 3 is Tesla's attempt to bring electric cars to the mass market and is considered critical to the company's future success.
Interest has been strong, with yesterday's reservations for the Model 3 at Tesla stores and galleries – some of which are located directly adjacent to Apple retail stores – arguably eclipsing the launch of the iPhone SE. Musk later boasted on stage that the company had already secured 115,000 reservations before the car had even been revealed.


The full selection of photos of the red Model 3 is available on the TechCrunch site. The video below, posted by iVenyaWay, shows off Tesla's new car in silver. A matte black option briefly features towards the end.
Apple is
widely believed
to be working on its own electric road vehicle, commonly referred to as the Apple Car, which Musk has called an "open secret" in the industry. According to Musk, the hundreds of engineers Apple has taken on make it clear there's an electric car in the works.
Apple and Tesla have hired each other's employees over the last couple of years, with Musk saying that Apple has hired away "very few people" from the car company despite offering $250,000 signing bonuses and 60 percent salary increases to its employees. Tesla meanwhile has hired nearly 150 Apple employees.
You can watch the full unveiling of the Tesla Model 3.