Pebble 2, Time 2, and Pebble Core Launch on Kickstarter
Pebble today launched a Kickstarter campaign for two new fitness-focused smartwatches, and an all-new cellular-connected wearable.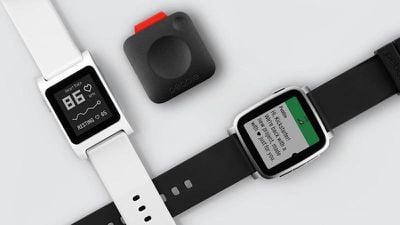 Pebble 2, the first major upgrade to the original Pebble smartwatch, features new built-in sleep, step, and heart rate tracking functionality alongside existing phone, text, and information notification capabilities.
The iOS- and Android-compatible smartwatch retains an always-on high contrast black and white display that is readable both indoors and outdoors. The watch also features an anti-scratch lens coating, built-in microphone, up to weeklong battery life, and water resistance up to 30 meters.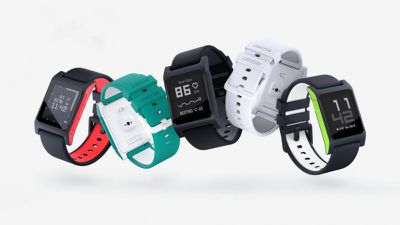 Pebble 2 is compatible with over 13,000 existing apps and watchfaces, and runs an updated version of its Timeline operating system that enables customizable one-click actions that, for example, make it easier to send a text message, call an Uber, or check your calendar right from your wrist.
Time 2 is Pebble's premium smartwatch featuring a stainless steel design, built-in heart rate monitor and microphone, and color e-paper display that is more than 50 percent larger than its predecessor and has up to 80 percent more pixels to see twice the text. The battery lasts up to 10 days on a single charge.


Time 2 adopts many other Pebble 2 features and is compatible with iOS and Android.
Pebble Core is an all-new Android-based lightweight, cellular-connected clip that allows runners to leave their smartphones behind, yet still conveniently stream music from Spotify, track their pace, distance, and location with GPS, record voice notes, and even send an emergency SOS if needed.
Pebble Core supports both Wi-Fi and 3G cellular networks using a micro-SIM card, while both Bluetooth and wired headphones can be connected. The wearable provides up to 5 days of battery life based on 45 minute workouts and can be charged using the included USB cable or an add-on wireless charging pad.


Pebble 2 starts at $99 on Kickstarter in flame, aqua, black, white, and lime and begins shipping in September 2016, while Time 2 starts at $169 in black, gold, and silver and is slated to ship in November 2016. Pebble Core starts at $69 in black-red and begins shipping in January 2017.
Pebble has already well exceeded its $1 million fundraising goal, with limited early bird and regular pledge tiers still available on Kickstarter. The Pebble 2, Time 2, and Core will each cost $30 extra at full retail price once the crowdfunding campaign is completed at the end of June.
Pebble also introduced Pebble Core for Hackers and new Pebble Health tools and features.
Pebble's existing smartwatch lineup includes the Pebble Classic, Pebble Steel, Pebble Time, Pebble Time Steel, and Pebble Time Round.