'Pebble Time' Debuts on Kickstarter With Slimmer Design and Color Display
Pebble today revealed the Pebble Time, a new smartwatch in its line of smart wearable devices that includes the company's first color-based display and introduces a thinner, more ergonomic design than its predecessor.
Launched on Kickstarter earlier this morning, Pebble promises that power consumption of the new device is greatly lowered thanks to the e-paper display, giving the Pebble Time a battery life of up to 7 days. The company also introduced a new voice-control feature to send voice replies or take notes using a select few compatible apps. The feature is a bit more full-fledged on Android, and on iOS currently will only work with Gmail notifications.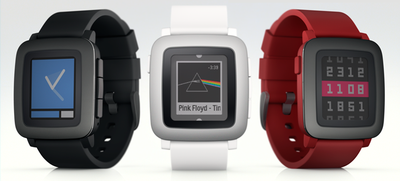 The Pebble Time also features a new curved design to ergonomically conform to any wrist, and is about 20 percent slimmer than the original Pebble. The company says the lens is made of scratch-resistant Gorilla Glass with a stainless steel bezel, enabling a water-resistant device that Pebble still warns from being fully submerged.
Pebble Time comes with a soft silicone band in the color options of black, white, or red, but the company says any 22mm watch band will fit the new device. The watch also lives up to its name thanks to the chronological curating of multiple apps into one new feature called "Timeline." With past, present, and future buttons residing on the right side of the device, users can easily scroll through completed tasks and events, see what they need to be doing now, and check reminders for the future.

This is the new app menu, featuring new app faces with glanceable content. With timeline we've also created a system that dynamically loads and caches apps as needed, letting you access as many apps as you need.

As with all Pebble software, we've built an open platform. You can allow apps and developers to add 'pins' to your timeline, so you can keep track of things like upcoming events, sports, weather, traffic, travel plans, pizza specials and more.
Pebble has been undeterred by the announcement and imminent launch of the Apple Watch, poking fun at Apple's overly enthusiastic unveiling of the device and pointing out their superior battery life and entry-level pricing in the process. Most recently the company claimed its new 2015 products would focus less on apps and more on something customers have never seen.
Those interested can visit the Pebble Time's Kickstarter page to claim their own rewards. The lowest pledge for the device begins at $159 for one watch with limited early-bird pricing, and ramps up from there. Retail pricing will be set at $199. The Pebble Time's $500,000 Kickstarter goal, which launched at 7:00 AM PT, reached its goal in just under twenty minutes of the campaign going live. As with most projects on the site, there are 31 days left to join in on the campaign.