Pebble Announces Next-Generation $249 'Pebble Steel' Smart Watch
Pebble today announced its next-generation Pebble Smart Watch, the Pebble Steel, which features a stainless steel body with a leather or steel band and a face covered with the ultra durable and scratch resistant Gorilla Glass used in Apple's own products.
Along with a new metal or leather band, a deviation from the plastic band of the first-generation Pebble, the Pebble Steel features smaller side and top bezels for a slimmer, lighter profile. The Pebble Steel weighs 45 grams, two grams less than the original Pebble.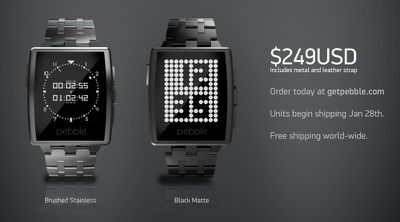 According to Pebble CEO Eric Migicovsky, who spoke to CNET, the Pebble Steel is designed to be a more formal version of the original Pebble.
CEO Eric Migicovsky describes Steel as a more formal version of Pebble: "I'm going out for dinner, I'm wearing a suit, I've got a position that doesn't allow me to wear a plastic watch on my wrist. How do I benefit from a smartwatch? How do I get notifications and run all the apps that Pebble offers without having to put something that I don't prefer on my wrist. We took that as an industrial design problem. It wasn't really a software problem…We just had to build an aesthetically different Pebble."
The band is available in both brushed stainless steel and a matte black steel, along with black leather. Pebble Steel lasts for up to a week on a single charge and includes an LED indicator that displays battery life. Like the original Pebble, it is waterproof.
Along with the Steel, Pebble has announced that its app store will be available to users later in January. The company is also partnering with new companies to introduce a playback control app for Pandora, ESPN sports stats and box scores, and a car stats monitoring app from Mercedes.
Pebble Steel will begin shipping on January 28 for $249, a $100 premium over the existing Pebble watch. Pre-orders can be placed today on the Pebble website.