Apple Introduces Apple Music Student Membership Option With 50% Discount at $4.99 per Month
Apple will today introduce an Apple Music student plan that discounts the streaming service by 50 percent for those who are enrolled in an eligible college or university (via TechCrunch).
The new plan means any academic student in the United States can now pick up an individual Apple Music membership for $4.99 a month, rather than pay the standard $9.99 subscription rate.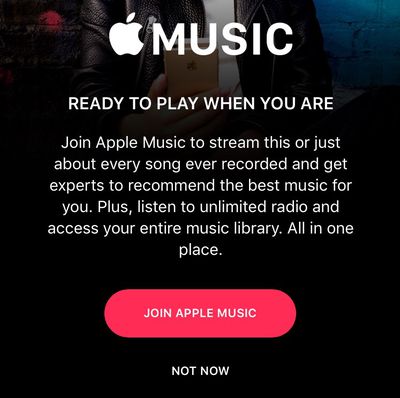 U.S. students won't be the only ones to benefit though, as the plan is also open to students in the U.K., Germany, Denmark, Ireland, Australia, and New Zealand. The actual cost is expected to vary slightly from country to country, but all markets will see 50 percent off the standard subscription rate.
The student discount is offered for up to four continuous or non-continuous years after sign-up, so students are able to take gap years or breaks between semesters and still sign up again when they return to study. Additionally, the plan is open to all students of all ages, regardless of degree.
The membership tier will be available starting today to both new and existing subscribers. Students can sign up or change their membership online, or go through the Apple Music mobile app. Apple is using student verification technology provider, UNiDAY, to ensure that those who are signing up as students are actually enrolled at a supported institution.
News of the student plan comes two days after it was reported that Apple is planning to overhaul its year-old music streaming service to make it more intuitive. The company is set to redesign the user interface, which will be "bolder, yet simpler", with an emphasis on black and white backgrounds and text as well as more of a focus on album art.
Additionally, the "New" tab in Apple Music is being replaced with a "Browse" option with better organizational tools for finding new content, and Apple will encourage users to use a simplified "For You" section. The new Apple Music app will reportedly debut at WWDC in iOS 10 and will be introduced through an iTunes update on the Mac.