Apple CEO Tim Cook and Lisa P. Jackson, vice president of environment, policy and social initiatives, are currently in India on a multi-day trip meeting various business leaders, politicians, developers and more. Yesterday, Cook visited the famous Siddhivinayak Temple in Mumbai before proceeding to a series of meetings. Meanwhile, Jackson made her way to the Indian state of Rajasthan to meet the "Solar Mamas" at The Barefoot College.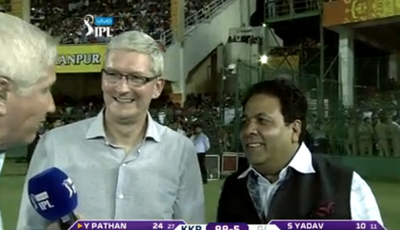 The Barefoot College trains rural women to assemble and manufacture solar lamps, earning the nickname "Solar Mamas", according to Yahoo India. The College connects rural communities to solar power and water. The college also uses iPads to teach the women, with Apple India having donated 20 iPads and 10 Macs earlier this year, reports The Better India.
Cook went to his first cricket game, a match from the country's Indian Premier League (IPL). Cook was
interviewed on the sideline
alongside IPL chairman Rajiv Shukla, with Shukla noting that the league, from professional to junior levels, uses iPads to organize matches. After noting how excited he was to be at his first cricket match, Cook once again called India "a great marketplace," saying that he's optimistic for the future of the country because of how talented its people are.
Bollywood superstar Shah Rukj Khan invited Cook to a private dinner at his home, which was attended by other big Bollywood stars, including Amitabh Bachchan, Aamir Khan, Aishwarya Rai and filmmaker Vidhu Vinod Chopra, according to The India Times. Before the dinner, Cook was escorted around the movie sets of the upcoming Raaz 4 by Mukesh Bhatt, president of India's Film and TV Producers Guild. Bhatt said Cook was "keen to see how Apple could partner with the [Indian film industry]."
Cook's five-day India trip is set to wrap up shortly after he meets
Indian Prime Minister Narendra Modi
on Saturday. Cook's conversation with Modi may include several subjects, including Apple's recent announcement of a
maps development center
in Hyderabad, plans to establish
an iOS app and design accelerator
in the country and the Indian government's decision to
approve single-branded Apple Stores
.
India has increasingly become important to Apple's business, with the company's revenue growing 56 percent in the last quarter and passing the $1 billion mark for the first time.