Tim Cook Visits Beijing, Shares Ride to Apple Store Using Didi Chuxing
As planned, Apple CEO Tim Cook arrived in Beijing on Monday for his latest visit to China, where the iPhone maker has experienced a turbulent few months. Earlier today, he caught a ride using Didi Chuxing, the Chinese ride-sharing service that Apple just invested $1 billion in, alongside the Uber rival's president Jean Liu.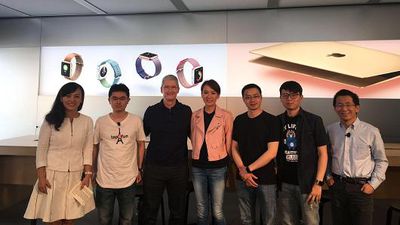 Cook meets with Liu, left, and developers at an Apple Store in Beijing (Image: CNBC)
While an
earlier report
said Cook plans to meet with senior Chinese government officials to discuss a range of issues, including
iBooks and iTunes Movies store closures
and a
recent patent dispute
, the CEO has thus far met with App Store developers at an Apple Store in Beijing for a seminar hosted by Liu, per
CNBC
.
At the Apple store, Cook attended a seminar hosted by Didi Chuxing's President Jean Lui, also known as Liu Qing, and attended by the founders and CEOs of some of China's top app providers, including Groupon-like Meituan, picture-editing app MeituPic, news content provider Toutiao.com, culinary app DayDayCook and game developer Tap4Fun.
Cook, who shared photos of his visit on Twitter and Weibo, understands the importance of Apple maintaining a positive image in China.
Greater China, including Taiwan and Hong Kong, is Apple's second largest market by revenue after the U.S. Last month, the iPhone maker reported that
sales dropped 26 percent
in the region in the second quarter, primarily due to declining iPhone sales as China's smartphone market becomes increasingly saturated.
Cook has made similar visits to Beijing to meet with Chinese officials, carrier partners, and customers in both 2012 and 2014.