iTunes Store Accepting Donations to Support Earthquake Relief in Japan and Ecuador
Apple today added banners to the iTunes and App Stores allowing customers to donate to the American Red Cross in support of people affected by the earthquakes that hit Ecuador and Japan last week.
Donations made through iTunes and the App Store can be placed using credit cards already on file with Apple, making the donation process simple. Customers are able to donate $5, $10, $25, $50, $100, or $200 to relief efforts. 100% of all donations made through iTunes will be given to the American Red Cross. [Direct Link to Donations]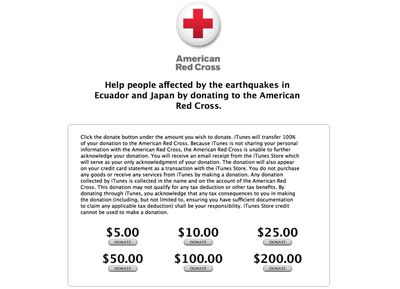 48 people have died in Japan and thousands more were injured after magnitude 6.2 and 7.0 earthquakes hit southwest Japan on April 14 and 16, causing severe damage in the Kumamoto and Ōita prefectures. More than 140 aftershocks have also affected the region.
In Ecuador, a magnitude 7.8 earthquake hit approximately 110 miles from Quito on April 16, killing more than 500 people and injuring thousands more.
Apple has used the iTunes Store donation method multiple times in the past to raise money for charity, most recently accepting donations in September to support the refugee and migration crisis across the Mediterranean Sea and Europe. Other previous relief effort fundraising campaigns have included the 2015 Nepal earthquake, the 2013 Phillippines typhoon, Hurricane Sandy in 2012, the 2011 Japan earthquake and tsunami, and the 2010 Haiti earthquake.