A9X in 9.7-Inch iPad Pro is Underclocked Compared to 12.9-inch iPad Pro
The new 9.7-inch iPad Pro adopts the same powerful dual-core 64-bit A9X chip that was first introduced in the 12.9-inch iPad Pro, but the two tablets are not on par when it comes to performance. Based on information on Apple's website, it appears the A9X in the 9.7-inch iPad Pro is slightly underclocked compared to the A9X in the 12.9-inch iPad Pro (via
AppleInsider
).
On its
iPad comparison page
, Apple lists the specs of the A9X in both of the iPad Pros, comparing them to the A7 chip in the iPad Air, iPad mini 2/3, and iPhone 5s. The 12.9-inch iPad Pro lists a 2.5x faster CPU and 5x faster graphics, while the 9.7-inch iPad Pro lists a 2.4x faster CPU and 4.3x faster graphics.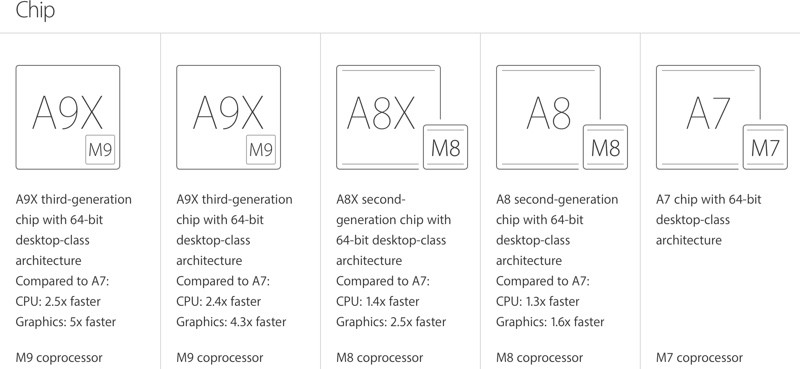 Apple has a history of underclocking the chips used in smaller devices. The iPad mini 2 and the iPad Air both used the same A7 chip, but while the iPad Air
clocked in
at 1.4GHz, the iPad mini 2 ran at 1.3GHz.
It's likely Apple is underclocking the A9X chip in the 9.7-inch iPad Pro due to its smaller body, which may be unable to dissipate heat as well as the larger 12.9-inch iPad Pro, The performance difference between the two tablets is likely to be unnoticeable in real world conditions, and even underclocked, the 9.7-inch iPad Pro is offering some significant performance improvements over the 9.7-inch iPad Air 2.
Aside from the slightly lower clock speed, the 9.7-inch iPad Pro has several features that set it above the 12.9-inch iPad Pro, including a 12-megapixel camera with a rear flash and a new True Tone display feature that adjusts the screen's temperature based on ambient lighting.
The 9.7-inch iPad Pro will be available for order starting this Thursday, with in-store availability and shipments starting the following Thursday, on March 31. Pricing for the new iPad Pro starts at $599.
Update:
Geekbench benchmark testing conducted by
TechCrunch
's
Matthew Panzarino
suggests the A9X processor in the 9.7-inch iPad Pro runs at 2.16GHz, compared to 2.24GHz in the 12.9-inch iPad Pro.
Here's a single Geekbench run with stats on iPad Pro 9.7" pic.twitter.com/vwqlKtsIUm

— Matthew Panzarino (@panzer) March 22, 2016
The new iPad Pro received a single-core score of 3022 and a multi-core score of 5107. In comparison, the 12.9-inch iPad Pro
sees average scores
of 3224 on the single-core test and 5466 on the multi-core test. The 9.7-inch iPad Pro may not be quite as powerful as the 12.9-inch model, but it did significantly outperform the iPhone 6s and the iPad Air 2 on the Geekbench test.