Retina iPad Mini Has 1.3 GHz A7 Processor With 5X the Performance of the Original Mini
Apple's new Retina iPad mini includes the same 64-bit A7 chip used in the iPad Air and the iPhone 5s, which offers significantly better performance than the A5 chip found in the original iPad mini.
According to new Geekbench 3 benchmarks, the Retina iPad mini is running at 1.3Ghz, much like the iPhone 5s. The iPad Air, however, clocks in at 1.4Ghz, giving it a slight performance edge over both the iPhone 5s and the new mini.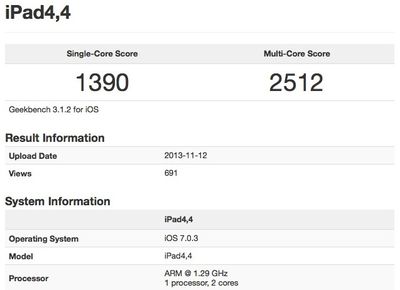 The Retina iPad mini scored a 1390 on the single-core test and a 2512 on the multi-core test, which was similar to the iPhone 5s score of 1399/2523, and lower than the iPad Air at 1466/2856. Compared to the 261/493 score of the original mini, the Retina iPad mini marks an incredible boost in performance speeds.
It is unclear why the mini is clocked at 1.3Ghz instead of 1.4Ghz like the iPad Air, but in terms of real world usage, users are unlikely to notice the small speed differences. It is possible that Apple chose the lower clock speed in the iPad mini to improve overall battery life or to reduce heat within the smaller chassis.
Apple's Retina iPad mini went on sale last night at midnight and is currently still available from the Apple Online Store and in Apple retail locations via Personal Pickup.