Apple Watch Sales Estimated at 5.1 Million in Holiday Quarter, Swiss Watch Sales in Trouble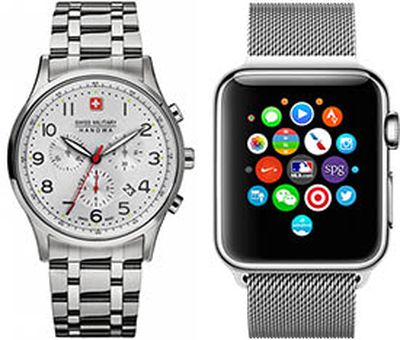 The latest data from Strategy Analytics reveals that the Apple Watch remained the most popular smartwatch through the fourth quarter of 2015, capturing 63 percent global market share based on an estimated 5.1 million sales in the three-month period.
Samsung trailed in second place with 16 percent market share and an estimated 1.3 million sales. Apple and Samsung together accounted for 8 in 10 of all smartwatches shipped worldwide during last year's holiday shopping season, based on the data.
Global smartwatch sales rose to an estimated 8.1 million units in the fourth quarter of 2015, an increase of 316 percent from 1.9 million in the year-ago quarter. The growth was led by North America, Western Europe, and Asia.
The record-breaking smartwatch growth contrasted the troubled Swiss watch market, which declined 4.8 percent in Q4 2015 over the year-ago quarter. Swiss watch sales totaled 7.9 million units in Q4 2015, down from 8.3 million in Q4 2014.
"The Swiss watch industry has been very slow to react to the development of smartwatches," said Neil Mawston, Executive Director at Strategy Analytics. "The Swiss watch industry has been sticking its head in the sand and hoping smartwatches will go away. Swiss brands, like Tag Heuer, accounted for a tiny 1 percent of all smartwatches shipped globally during Q4 2015, and they are long way behind Apple, Samsung and other leaders in the high-growth smartwatch category."
Apple does not break out Apple Watch sales in its financial earnings results, but rather groups the wrist-worn device under its "Other Products" category with iPod, Apple TV, Beats, and accessories revenue.
Strategy Analytics previously estimated Apple Watch sales at 4 million in the second quarter, and 4.5 million in the third quarter, meaning that Apple sold an estimated 13.6 million Apple Watch units overall in 2015.
Early rumors suggested an "Apple Watch 2" would launch this spring, but it now appears that Apple's much-rumored March 15 event will focus on smaller Watch updates, including new bands and perhaps another fashion partner like Hermès.