March Event Could See Launch of iPhone 5se, iPad Air 3 and New Apple Watch Bands
Apple is rumored to be planning to host a March event to unveil new products, but exact details on what will be shown off at the event have been in flux. An early December rumor from 9to5Mac suggested Apple would use the event to unveil a second-generation Apple Watch, but a report from TechCrunch indicated that rumor was false - no Apple Watch 2 is in the works for an early 2016 launch.
Instead, TechCrunch shared information indicating something smaller but still watch-related could be introduced in March, perhaps a minor update to add a FaceTime camera or new bands and partnerships similar to Apple's collaboration with Hermès. In a new report on what may come out at the March event, 9to5Mac backtracks on earlier claims of an Apple Watch 2 and instead agrees with TechCrunch, pointing towards a new Apple Watch lineup with new bands but no hardware changes.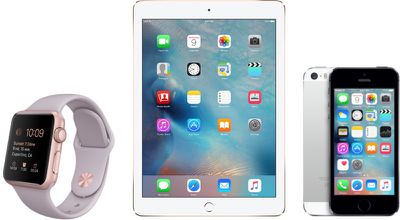 At its September 2015 event, Apple introduced its Hermès partnership and debuted new colors for several Apple Watch bands, and we may see the same kind of update at the March event. New colors for existing bands and bands in new materials may be in the works. Apple is also planning to release watchOS 2.2 at or shortly after the event.
Apple's March event may also see the debut of the rumored 4-inch iPhone, now thought to be called the "iPhone 5se" to reflect its position as a successor to the iPhone 5s. The device is said to have an iPhone 5s-style exterior with iPhone 6-style curved cover. Internally, it will feature an A8 or A9 processor, NFC support for Apple Pay, an 8-megapixel rear camera, and while it won't have 3D Touch, it will be capable of taking Live Photos.
Previous rumors have suggested we could also see the next-generation iPad Air at the March event, as it is said to be debuting in the spring of 2016.
Though no Apple Watch 2 update is planned for early 2016, a second-generation update is undoubtedly in the works. It's possible Apple could be planning to release a new Apple Watch in the fall months alongside the iPhone 7.
Apple's plans for a March event remain tentative, and should products not be ready for release, there's a possibility that it could be canceled in favor of an online-only unveiling and announcement for the 4-inch iPhone and new Apple Watch bands.