Tim Cook and Jony Ive Talk Apple Campus 2, Apple Watch in New Interview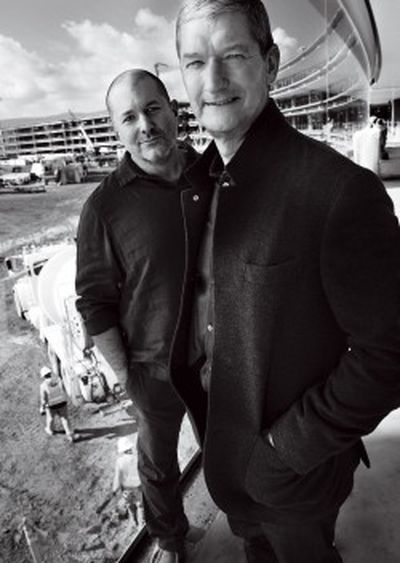 Apple executives Tim Cook and Jony Ive sat down with Vogue this week to discuss a range of design-oriented topics, from the company's spaceship-shaped second campus to the Apple Watch.
On Apple's second campus, which is under development in Cupertino, Tim Cook shared some details on the giant pile of dirt that's been building up in the center of the site as construction has progressed. According to Cook, none of that dirt will be removed, as Apple plans to use it all for the landscaping that will support more than 7,000 trees. "Hard to know which is more beautiful, the building or that pile of dirt," he told Vogue.
When Steve Jobs envisioned the second Apple camps, he pictured large swathes of greenery, which have been included in campus plans since the idea was first pitched to the Cupertino City council in 2011. Apple is planning on 80 percent green space, with a central garden that offers outdoor dining areas and more than 300 species of trees, including fruit tree orchards that are a throwback to Steve Jobs' childhood in Northern California.
Apple's design partner for the campus, Norman Foster, was on hand to give some color on the building's iconic curved glass windows, which span nearly four miles. "The sheets of glass are so long, so clear, that you don't feel that there is a wall between you and the landscape," Foster said.
Vogue also spoke to Jony Ive about the Apple Watch, his position as co-chair for the upcoming Met Gala Exhibition, "Manus x Machina," and Apple's growing connection to the world of fashion. According to Ive, technology has reached a point where Apple can achieve "the dream of the company," making technology personal. "So personal that you can wear it," Ive said, going on to highlight the ever evolving modernization of fashion.
"Both the hand and the machine can produce things with exquisite care or with no care at all," says Ive. "But it's important to remember that what was seen at one time as the most sophisticated technology eventually becomes tradition. There was a time when even the metal needle would have been seen as shocking and profoundly new."
Tim Cook and Jony Ive's full interview, which includes additional information on the Apple Campus, the Apple Watch, its partnership with Hermès, and comments from designer Tom Ford on the relationship between Apple devices and fashion, can be read over at Vogue.