Following the launch of its first wearable device, the Apple Watch, Apple has been making a name for itself in the fashion world. As part of its efforts, Apple is sponsoring the 2016 Metropolitan Museum of Art Gala and Costume Institute Exhibition, where Jony Ive will be serving as a co-chair alongside pop star Taylor Swift and actor Idris Elba.
The Met Gala, held each year, is a fund raising event that benefits the Metropolitan Museum of Art Costume Institute. The theme chosen for the gala each year reflects the theme of the Costume Institute exhibition and dictates what Met Gala attendees should wear. Last year's theme was "China: Through the Looking Glass."
The theme for the 2016 event, which will take place on May 2, is "Manus x Machina: Fashion in an Age of Technology." The show will focus on the dichotomy between handmade haute couture and machine-made fashion, featuring pieces that juxtapose traditional hand techniques like embroidery, pleating, and lacework with technologies like laser cutting and thermo shaping.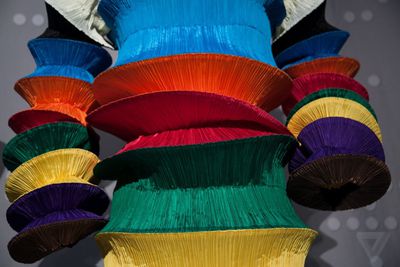 This 1994 "Flying Saucer" dress by Issey Miyake will be featured in the 2016 Met Gala. Image via The Verge
.
The Costume Institute hosted a preview of the exhibition this morning, with details shared by
The Verge
. According to Costume Institute curator Andrew Bolton, the theme of the gala was inspired by the 1927 sci-fi drama
Metropolis
by Fritz Lang, a movie that focuses on the struggle between man and machine. Apple design chief Jony Ive gave a statement on the event, saying Apple believes technology and craft "go hand in hand."
"More than ever, we believe that it is fundamentally important to personally work with materials as a means to truly understand their physical nature and to design authentic objects. Far from being mutually exclusive notions, we believe that technology and craft go hand in hand -- much like beauty and utility -- and become all the more powerful in combination."
Designers like Iris van Herpen, Yves Saint Laurent, Christian Dior, and Chanel will have pieces on display at the event that show off the melding of technology and fashion. One dress by Iris van Herpen, for example, will include laser-cut silicon feathers and silicone coated gull skulls, while a second van Herpen display piece features a white polyamide 3D printed dress with acrylic fringe and white goat leather.
The 2016 Met Gala is set to take place on May 2, 2016. In addition to being sponsored by Apple and co-chaired by Jony Ive, it will feature honorary chairs Anna Wintour, Nicolas Ghesquiére, Karl Lagerfeld, and Miuccia Prada.