Apple Planning Expansion to Seven-Building Sunnyvale Campus
Apple has agreed to lease a new seven-building campus in Sunnyvale, CA, where it could move up to 1,450 employees, according to the San Jose Mercury News.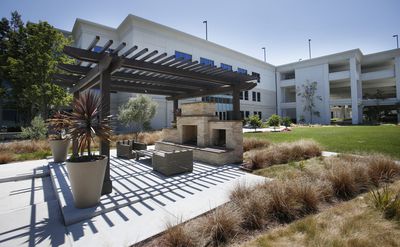 Image via San Jose Mercury News
In the most recent expansion, Apple intends to occupy a 290,000-square-foot office complex known as Sunnyvale Crossing that is near the corner of Central Expressway and North Wolfe Road. Menlo Park-based Lane Partners bought the complex and then proceeded with a renovation to transform the decades-old buildings into a state-of-the-art office center.
According to city records, Apple is currently only listed as a tenant in one of the buildings, but plans to occupy the six other buildings as well. Additionally, building permit applications have been filed for all seven of the buildings for "interior improvements", though those must be approved by Sunnyvale's city planning commission.
The new Sunnyvale campus is yet another part of Apple's plan for expansion, alongside a new two-building Santa Clara campus that would hold 1,200 employees and Apple's already iconic Spaceship Campus, which will hold around 14,000 employees and is currently under construction.