Another iPad Air 3 Design Drawing Points to Smart Connector, Similar Dimensions as iPad Air 2
A new drawing of the unannounced iPad Air 3 highlights the dimensions of the device, with the potential for the third generation iPad Air to have similar dimensions as the iPad Air 2 (via Engadget). According to the image, the iPad Air 3 will be 6.15 mm thick and 169.6 mm wide, meaning the new tablet would end up about 0.05 mm thicker and 0.1 mm wider than the iPad Air 2.
Since the dimensions are so close to one another, and factoring in the possibility for rounding and measurement errors, it's a good possibility that the iPad Air 3 will be around the same size as the second generation iPad Air tablet.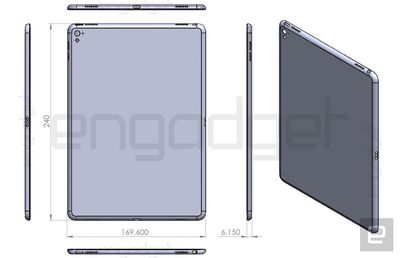 Image via Engadget


Today's drawing also supports previous rumors surrounding the iPad Air 3's potential features, including a four-speaker design to boost audio quality in the same vein as the iPad Pro. A Smart Connector port can be seen on the side of the device, which would give the new iPad support for accessories like a Smart Keyboard. Previous case leaks and rumors for the iPad Air 3 have been less consistent on the inclusion of a Smart Connector, with some showing a cutout for the accessory port and some not.
The sketch also supports the rumored addition of a rear-facing LED flash onto the iPad line, which would make the iPad Air 3 the first of Apple's tablets to get the feature.
At the company's September event last year, only the iPad mini received a refresh, along with the debut of the iPad Pro. Due to its elongated lifespan, the iPad Air has been rumored to get its own update during the first half of 2016, potentially at a March media event.