Apple has announced that its 33rd retail store in China will open in Qingdao, a port city bordering the East China Sea, on Saturday, January 30 at 10:00 a.m. local time. The store will be located in the new MixC luxury shopping mall, the largest in China, on 6 Shandong Road in the city's coastal Shinan District.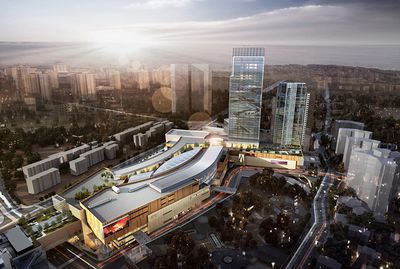 A render of the MixC shopping mall in Qingdao, China
MixC Qingdao is an expansive plaza with over 400 popular fashion stores, dining restaurants, cafes and entertainment facilities, including an indoor theme park with a rollercoaster. The mall also includes an Olympic size ice skating rink and the most expensive cinema in China with IMAX and 4D.
The new store will be open between 10:00 a.m. and 10:00 p.m. local time on weekdays, and between 10:00 a.m. and 10:30 p.m. on weekends.
Apple has aggressively expanded in China under the leadership of retail chief Angela Ahrendts, with new stores in Xiamen on January 14, Shenyang on January 9, Nanning on December 12, Beijing on November 28 and Chengdu on November 21. Apple also opened stores in Chongqing, Hangzhou, Hong Kong, Nanjing and Tianjin in 2015.
China is Apple's second biggest market by total revenue after the Americas. The company experienced 99% year-over-year revenue growth in Greater China, which includes China, Taiwan and Hong Kong, in the fourth fiscal quarter of 2015. China will likely eclipse the U.S. as Apple's biggest market by 2017 if the growth continues.