Apple Makes it Easier to Create and Buy iAds, Introduces Short Video Ads
Apple is making it easier for anyone to create an ad campaign using its iAd Workbench mobile advertising tool. As noted by Ad Age, the company is now allowing any person with an Apple ID to open an iAd Workbench account and create an ad campaign, a feature previously restricted to registered developers. The changes will make it simpler for advertisers, small and large, to create ads for the platform.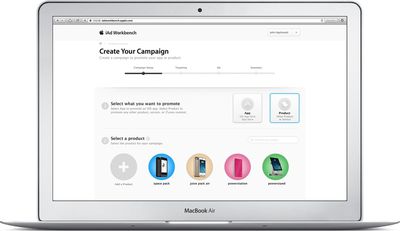 At the onset of its mobile-ad business, Apple extended olive branches to a select group of brands, promising premier reach. But advertisers pushed back against its pricey offerings. Now, it appears Apple has concluded money in mobile ads comes from a wide net; in short, it'll look more like Google.
Apple is also introducing new features to Workbench, its web-based platform used for tracking and launching campaigns. Users can now include short videos in an ad, which will be displayed full screen on the iPad and the iPhone, as first described earlier this year. Previously, iPhone ads were limited to less obtrusive banners that needed to be tapped before a video would play. Video iAds are also able to send viewers to websites or promoted iTunes content, rather than just mobile apps.
At the current point in time, the iAd Workbench expansion is limited to mobile ads and does not extend to iTunes Radio. Ad buyers are able to pay based on cost-per-click or cost-per-thousand impressions.
The company is likely hoping to attract new advertisers to the iAd platform with the introduction of videos and the simplification of account creation. Since its 2010 debut, iAd has been largely unsuccessful gaining advertising partners, but Apple has been aiming to revive iAd since the introduction of iTunes Radio.
Several major advertising partners, including McDonald's, Nissan, Pepsi, and Procter & Gamble signed up for iAd when iTunes Radio debuted and Apple has managed to increase iAd revenue to $260 million in 2013 from $38 million in 2011.