Tim Cook on New iPhone 6s Battery Case: 'I Wouldn't Call it the Hump'
Apple CEO Tim Cook attended one of Apple's Hour of Code events in New York this afternoon, where he spoke to Mashable's Lance Ulanoff about the new iPhone 6s Smart Battery Case, which debuted yesterday.
Ulanoff asked Cook if he was excited about the "hump," a mocking nickname people have given to the battery case due to its distinctive shape. In response, Tim Cook said he was aware of the comments people were making about the case. "You know, I probably wouldn't call it 'the hump,'" Cook said.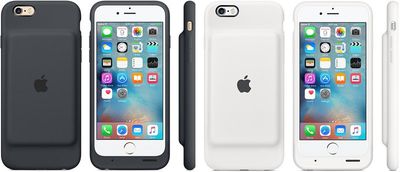 Cook went on to point out the malleability of the new Smart Battery Case in comparison to other battery cases. It's made of a soft silicone that makes it easy to put on and remove, unlike more rigid cases from third-party companies.
Cook was pointing out the issue with cases, like those from Mophie, that are so rigid it takes considerable strength and patience to put them on and take them off.

"If you make this solid all the way across," said Cook, indicating the spots where the Apple case's embedded battery stops and you just have the soft fluoroelastomer casing, "in order to get it on, you'd find it very difficult to get it on and off."

"So the guys had this great insight to put the bend in along with making it a smart case," Cook explained.
Cook also commented on the viewpoint that the case is an admission the iPhone 6s battery is too small, saying most people who charge their iPhones every day won't need the case. "But if you're out hiking and you go on overnight trips... it's kind of nice to have," he said.
Apple introduced its iPhone 6s Smart Battery Case yesterday morning, and its distinctive humped design quickly led to derision and negative comments from iPhone users. Reviews of the Smart Battery Case were also not overly positive as the case doesn't have enough capacity to fully recharge an iPhone and it's missing some features that are found in third-party battery cases.
Apple's Smart Battery Case for the iPhone 6s is priced at $99 and is available from the online Apple Store and Apple retail locations.