Apple Launches Official $99 Battery Enhancing Case for iPhone 6s
Apple today quietly launched a new iPhone 6s Smart Battery Case that will prolong the smartphone's talk time and internet use up to a total of 25 and 18 hours respectively (via CNET). The case's outside material compares similarly to the company's previous line of silicone accessories, with an added hump sitting in the middle of the backside where the extra battery rests.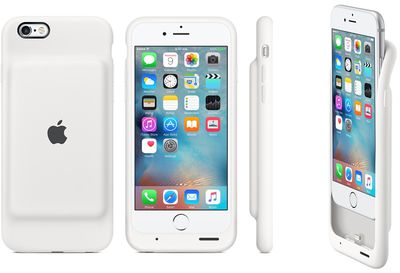 Charge your iPhone and battery case simultaneously for increased talk time up to 25 hours, Internet use up to 18 hours on LTE, and even longer audio and video playback.* With the Smart Battery Case on, the intelligent battery status is displayed on the iPhone Lock screen and in Notification Center, so you know exactly how much charge you have left.
As the first official Apple-made iPhone battery case, the new product comes in Charcoal Gray and White color options and costs $99 on Apple's online store. A new feature will allow the case's battery life status to be displayed for users on both the lock screen and in Notification Center, so it's easy to determine how much life the accessory has left. The company also promised that the Smart Battery Case supports all Lightning products, including the iPhone's bundled-in Lightning cable and the official iPhone Lightning Dock.

The company's storefront doesn't specifically disclose the mAH capacity of the Smart Battery Case, aside from the estimated hours given to tasks like talking on the phone and browsing the internet. There's also no version for the iPhone 6s Plus currently announced, but users of last year's 4.7-inch iPhone 6 model may be able to use the new case due to its design similarities to the iPhone 6s.