Apple's iPhone 6s Battery Case: iOS Integration Is Nice, but Better Options Exist
Apple's new first party iPhone 6s Smart Battery Case launched quietly overnight onto the company's online store, and now this morning a handful of sites around the web are publishing reviews for the new accessory. Most reviewers agree that it's time Apple acknowledged the lesser battery life of the 4.7 inch iPhone 6s, when in comparison to its 5.5 inch iPhone 6s Plus alternative, but some still aren't convinced that the case's design, power, and price point are justified.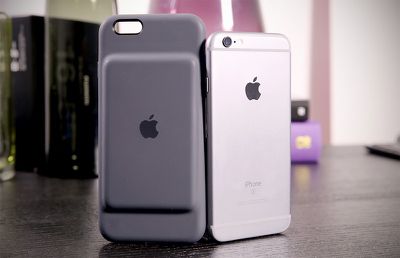 Image via Engadget
The Verge
appreciated Apple's attempts at expanding the case's functionality beyond a simple battery extension, like its built-in antennas to improve cellular performance or the iOS integration that showcases the accessory's current battery level. Still, the site had issues with the protruding lump on the back of the case and the fact that it doesn't fully charge a dead iPhone from 0 to 100 percent due to its slightly weaker (when in comparison to comparable third party cases) 1,877 mAh battery.
The Verge also noted that the Smart Battery Case doesn't allow users to choose when the case begins or ends charging, it just starts the moment you plug the iPhone 6s into the case's Lightning adapter, perhaps a downside for more intensive iPhone users. In the end, they noted that casual, passive users who want to stay within the Apple family will get what they need out of the case, but that there are cheaper alternatives with more battery life selling points on the market.
Apple's smart battery case is good, then, if you want a softer case or a "passive" battery charging experience, with zero control over or understanding of how the case actually charges your phone. Maybe that's what Apple is hoping: that buyers of this thing will slip it on and never take it off, charging their iPhones entirely through the case's Lightning port going forward, forgetting about its big ol' bump in the back. They will be pleased, finally, with their iPhone 6's or 6S's battery life, and the memory of spending an extra $99 for it, rather than having it just work that way in the first place, will eventually fade away.

It's fine if you don't want exterior indicator lights, or a even a case that gives you a 0 to 100 percent charge. After all, this one was designed for the iPhone, by the same company that made your iPhone. For some people, that's a big draw.
As opposed to The Verge's dislike over any lack of outward LED indicator lights regarding the Smart Battery Case's charge level, The Wall Street Journal appreciated Apple's attempt at discreetness. The site was overall more positive on the new product, noting that while the case's fully charged battery only brought an iPhone from 0 to 83 percent, it still provided about 5 hours more use time in a standard looping video battery test and alleviated most battery life quibbles the reviewer had with the iPhone 6s previously.

After five days of living with the Smart Battery Case wrapped around my iPhone, I no longer feel so powerless. Even better, Apple fixes many of the issues I've had with cases over the years. It uses the same Lightning cable as the iPhone to charge, and it tells you how much power is remaining right on the phone's screen. Besides, the case doesn't feel like the stuff plastic forks are made of.

For all its virtues, the Smart Battery Case is still a Band-Aid for Apple's iPhone battery problem. We need longer-lasting batteries and easier ways to charge them—not silly battery backpacks. I plan to spend the $99, but I hope one day the Smart Battery Case will just be an artifact from a time before iPhones could run for days.
Engadget admitted to disliking the design of the case's battery bump upon initially viewing it, but grew to become familiar with the battery protrusion. The site noted that while some may dislike the visual design of the accessory, it "isn't cumbersome" to hold for extended periods of time and is "actually pretty comfortable," although the usual stickiness of silicone in tight jean pockets will remain an issue for some. In a similar vein to other reviews, Engadget ended with stating that those tied into the Apple ecosystem will benefit from the Smart Battery Case's iOS integration, but most others can find cheaper alternatives.

Image via Engadget
Apple's first battery case works, and it works well. Here's the rub, though: There are plenty of cheaper, more capacious options, and some of those are prettier too. What the Smart Battery Case offers over its rivals is a sense of cohesiveness that stems from Apple controlling both the hardware and software experience. The convenience of a Lightning pass-through for easy data transfers and power reminders in iOS might make the case's $99 price worth it for some of you, but everyone else could spend half that on a third-party case.
Those interested in trying out the iPhone 6s Smart Battery Case for themselves, or purchasing it for someone as a Christmas present, can visit the Apple online store to order the new accessory. Shipping estimates currently sit at 1-3 business days, and those who live near an Apple Store will be able to select a personal pickup option, as well.