iPad Pro Tidbits: A9X Outperforms MacBook, Apple Pencil is Weighted, T-Mobile Financing and More
Apple released the iPad Pro on the Apple Online Store and at select Apple Retail Stores and resellers earlier today, and we have rounded up some interesting facts and news announcements surrounding the 12.9-inch tablet.
iPad Pro Delivers Notebook-Level Performance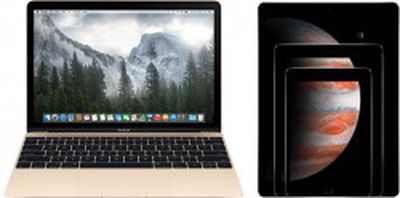 Geekbench results show that the iPad Pro's A9X processor is a dual-core chip running at about 2.25 GHz, as reported by Ars Technica.
The A9X chip had a 3,233 single-core score and 5,498 multi-score score in browser-based CPU tests, outperforming the iPad Air 2 and other recent iPhones and iPads by a significant margin.
iPad Pro also outperformed the 12-inch Retina MacBook, equipped with an Intel Core M dual-core processor clocked at 1.1 to 1.2 GHz, but the A9X chip's CPU performance falls short of devices like the 2015 MacBook Air and Surface Pro 4 with Intel's latest Broadwell or Skylake U-series processors.

The iPad Pro's GPU performance is much more impressive, with GFXBench OpenGL test results showing the A9X chip outperformed the 2015 15" Retina MacBook Pro with Intel Iris 5200 integrated graphics, in addition to the 12-inch MacBook, 2015 MacBook Air, 2015 13" Retina MacBook Pro, Surface Pro 4 and all recent iPads.
We're looking at MacBook Air-class CPU performance and MacBook Pro-class GPU performance, so the iPad Pro ought to be able to handle more multitasking features with aplomb as Apple sees fit to add them. Professional 3D apps like AutoCAD and the Complete Anatomy app Apple showed off in September all seem to run just fine, too.
Apple Pencil is Weighted



Lauren Goode of The Verge shared an interesting anecdote about the Apple Pencil in her iPad Pro review:
But the Pencil is just plain fun. It is indeed Apple white, and there are Apple-y things about it — for example, the fact that it is weighted, and won't roll away on a table top, and always stops rolling with the word "Pencil" facing upward on its metal band.
Read our iPad Pro review roundup.

T-Mobile Financing for iPad Pro
T-Mobile has announced the iPad Pro will be available November 18. Eligible customers can finance their iPad Pro purchase through the carrier's JUMP! On Demand program, starting at $199.99 upfront with $34/month payments.
T-Mobile has a sign-up page to receive an email alert when orders can be placed. Apple Pencil and Smart Keyboard will also be available on T-Mobile for $99 and $169 respectively starting November 18.
Apple Store Availability
iPad Pro launched today with limited in-store stock at select Apple Retail Stores in the United States, Canada, United Kingdom and some other countries. Personal Pickup is available in U.S. stores.
Most Apple Stores have not received stock of the Apple Pencil and Smart Keyboard, while online shipping estimates currently range between 3-4 weeks in the U.S. and many other countries for the accessories.
Tim Cook Calls Microsoft's Surface Book "Diluted"

The Irish Independent has published an interview with Apple CEO Tim Cook about the company's plans to expand in Ireland, iPad Pro and more, with his comment about Microsoft's new Surface Book drawing some attention:
Mr Cook had some sharp words for competitors. Despite saying that Apple's relationship with Microsoft as "really good", he described the software giant's new Surface Book laptop as "deluded".

"It's a product that tries too hard to do too much," he said. "It's trying to be a tablet and a notebook and it really succeeds at being neither. It's sort of deluded."
Update: Apple says Cook meant "diluted," not "deluded," in reference to the above comment.
Apple says that CEO Tim Cook meant 'diluted', not 'deluded'. Makes sense. Consider this a correction. — Adrian Weckler (@adrianweckler) November 11, 2015
Follow our
iPad Pro timeline
for the latest news about the 12.9-inch tablet.