iPad Pro Review Roundup: Powerful Creative Canvas, but Not Quite a PC Replacement
Apple released the iPad Pro online and in stores earlier today, and the embargo has now lifted for hands-on reviews of the new 12.9-inch tablet.
The consensus opinion is that the iPad Pro is an excellent device for content creation, with powerful hardware for intensive apps and multitasking, but not quite a PC replacement due to its iOS limitations. The tablet's experience will be better realized once more developers update their apps to take advantage of the larger canvas.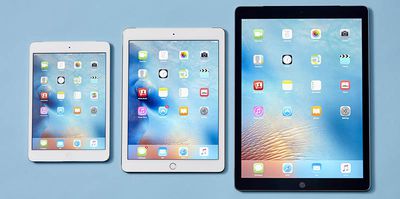 From left to right: iPad mini 2, iPad Air 2, iPad Pro (Image: WSJ)
iPad Pro reviews praised its large display, which at 2,732×2,048 pixels has a higher resolution than the 15-inch MacBook Pro with Retina display, and most early adopters claim the tablet meets or exceeds its advertised 10-hour battery life. The new Apple Pencil and Smart Keyboard also received positive reviews.
Ars Technica - Andrew Cunningham
It's best to think of the iPad Pro as a starting point, especially for iOS 9. These multitasking features are still brand-new, and there's a lot of low-hanging fruit to pick in future iOS 9 revisions and into iOS 10. My biggest gripes with the iPad Pro are with the software rather than the hardware, and that means that most of them can be fixed given enough time and enough feature requests. It took Microsoft three tries to really nail down the Surface Pro concept, and given a couple of iOS updates the iPad Pro has room to grow into a more versatile laptop replacement without necessarily giving up the things that people like about iOS.

For the rest of us, there's still the Mac.
CNET - Scott Stein
I want the iPad to eat the Mac, the way the iPhone ate the iPod. This iPad has already crept up to become as large as a Mac. But iOS needs to fully change with it. I need to connect to my old files and Web tools better, because that's what I need as a pro. I want it to become as flexible as a computer should be. The iPad needs to bridge the gap.

The iPad Pro feels like the top half of a new futuristic superpowered laptop. I want the bottom half, too.
MacStories - Federico Viticci
The iPad Pro is positioned as a more productive take on the iPad for those who need to get work done on it. My recommendation couldn't be more straightforward: if iOS is your main computing platform, or if you plan to turn an iPad into your primary computer, you'll want an iPad Pro. Its powerful hardware, multitasking interface, and extensible nature are superior to every other iPad. I don't see myself using a Mac as my primary computer ever again.
Mashable
- Lance Ulanoff
It certainly has some impressive benchmark numbers. Its Geekbench single-core (3,218) and multi-core (5,455) numbers blew away virtually everything else (in the mobile space), including the A9 chip in the iPhone 6S/6S Plus. It even outperforms the new MacBook's Intel Core M processor (2,367 and 4,489 for single-core and multi-core, respectively). What's more, the iPad Pro's single-core score rivaled desktop performance on the Microsoft Surface Book (beating the sixth-gen Intel Core i5 and coming close to a sixth-gen Intel Core i7). The multi-core scores lagged behind both systems, but not by the margin you might expect.
TechCrunch - Matthew Panzarino
…iPad Pro absolutely, 100% could be the central computing device for a home. […] But there is a certain (sorry) norm-core computing demographic that could very well end up with an iPad Pro as the 'enhanced' component to their smartphone, which is their real computer. Somewhere on the same level as other use-case-based devices like wearables and an interconnected home.
TouchArcade - Eli Hodapp
I'm not sure how anyone can walk away with a first impression that's any different from, "Wow, this is comically large." Unboxing my iPad Pro and getting it in my hands for the first time brought all the memories of the original Xbox rushing back, as everything about that console (particularly the launch day unit) from the size of the Xbox itself to how huge the controller is just felt absurdly huge. […]

If you want a good size comparison without leaving the house, look around for a normal sized magazine. For whatever reason I've got an issue of People on my coffee table, and the screen of the iPad Pro is basically the exact same size. Add in a little extra around the edge for the bezel, and there you go.
The Verge - Lauren Goode
But even this split-screen mode isn't enough for lots of the "laptop" things I need to do on a daily basis. This is still a mobile OS we're talking about. It's nice that it's at least familiar feeling, unlike the foreign hybrid OS that Microsoft introduced with the first Surfaces. But I can't manipulate more than two app windows at a time on the iPad Pro. I can't control things with a trackpad. I can't run Final Cut Pro on the iPad Pro. Entering data into cells in the Google Sheets app on the iPad Pro is still onerous. There's no way to hand over the iPad to someone else and let them quickly log in as a "guest" user.
The Verge
- Walt Mossberg
You can get a lot more done with iPad apps than with the paltry selection of tablet / touch-first apps available for the Surface. But, because Apple hasn't made a great keyboard, the iPad Pro isn't a complete replacement for a great laptop like the MacBook Air — even for a tablet guy like me.

The iPad Pro will no doubt make a lot of Apple users happy, especially if they use it for graphics. But I won't be buying one, and I don't recommend that average users do so either.
The Wall Street Journal - Joanna Stern
The Pro may seem wedged between iPads and MacBooks, but it will be your main computer in the future. As our phablets push smaller tablets into retirement, the big tablet and its accessories will do the same for our traditional computers. For now, however, it may be easiest to step back and see the Pro as a… really good, really big iPad.
More Reviews: Bloomberg, Daring Fireball, Fast Company, TechRadar, The Telegraph, Wired and Yahoo Tech