iPad Pro Now Available for Purchase From Apple Online Store
Apple is now accepting orders for the iPad Pro, both through its online storefront and through the Apple Store app. The first iPad Pro online orders will arrive on Friday, November 13 when one-day shipping is selected, and Apple's site is also listing the tablet as available for purchase in many retail stores beginning today.
The Apple Pencil and the Smart Keyboard will not be arriving until late next week and are not available for in-store pickup at the current time.
Logitech's CREATE Backlit Keyboard Case for the iPad Pro is available in stores beginning today, however, for $149.95. Apple is advertising the keyboard right alongside the Apple Pencil and its own Smart Keyboard. Logitech's keyboard was designed with input from Apple and it is the first third-party product to use the device's Smart Connector port.
The iPad Pro is Apple's new flagship tablet, measuring in at 12.9 inches diagonally. It includes a Retina display, a four speaker audio system, 4GB RAM, and a set of dedicated accessories, the Apple Pencil and the Smart Keyboard.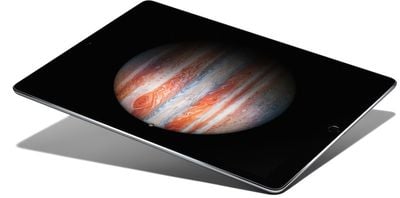 Apple's iPad Pro is priced at $799 for the entry-level 32GB Wi-Fi only model, $949 for the 128GB Wi-Fi only model, and $1,079 for the 128GB Wi-Fi + Cellular model. The iPad Pro is available for purchase in Gold, Silver, and Space Gray.
The Apple Pencil and the Smart Keyboard are being sold alongside the iPad Pro. The Apple Pencil is priced at $99, while the Smart Keyboard is priced at $169.
The iPad Pro is available in a long list of countries at launch, including Anguilla, Antigua and Barbuda, Australia, Austria, Belgium, Canada, Cayman Islands, China, Czech Republic, Denmark, El Salvador, Finland, France, Germany, Gibraltar, Greenland, Guatemala, Hong Kong, Hungary, Ireland, Isle of Man, Italy, Japan, Liechtenstein, Luxembourg, Malaysia, Mexico, Monaco, Netherlands, New Zealand, Norway, Poland, Portugal, Puerto Rico, Russia, Singapore, Slovenia, Spain, Sweden, Switzerland, Thailand, Trinidad and Tobago, Turkey, UAE, U.S., U.K., Uruguay, and the U.S. Virgin Islands.