Country music singer Kenny Chesney is the focus of the latest Apple Music advertisement, which aired last night during the Country Music Association awards on ABC. Taking a glimpse behind the scenes of Chesney's "No Shoes Nation" tour, the ad shows the singer going through a day of preparing for his next concert by creating a "Show Day List" playlist on Apple Music and touting the service's "human element."
Chesney can also be seen working out with an Apple Watch early on in the ad, checking on his progress with the help of the device's activity rings. The one-minute ad ends with a promotion for Apple Music's three month free trial, which still runs for any new users signing up for the music streaming service.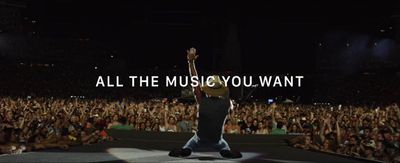 Apple has been debuting a wave of commercials as the holiday season grows nearer, not only for Apple Music but for the iPhone 6s and iPhone 6s Plus.