Apple May Build Massive 4.15 Million Square Foot Campus in North San Jose
Apple is hoping to sign an agreement with the city of San Jose that would allow it to build a massive campus in the northern part of the city, reports the Silicon Valley Business Journal. Apple is in talks with city officials over a development agreement that would lead to a campus up to 4.15 million square feet, larger than both its existing Infinite Loop campus and its second Apple Campus under construction in Cupertino.
The draft agreement, which is not yet completed, will come before the city's Planning Commission later this month, officials said. It would lock in development rights -- and expectations for both sides -- for the next 15 years in an area that sprawls across 86 acres north of Highway 101 across from the Mineta San Jose International Airport.
Apple has already bought or leased much of the land that would house the campus in a series of real estate deals that have happened over the last few months. Apple purchased a 296,000 square foot research and development building in May, and it leased a 43-acre development site in August, which is approved for up to 2.8 million square feet of office space. Apple has also leased a nearby 202,000 square-foot office building. The agreement covers all three of these sites.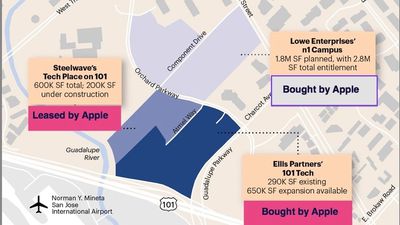 According to the Silicon Valley Business Journal, the development agreement is not the same as a concrete project and gives no guarantee that Apple will build on the space, but given Apple's land grab in the area, it seems the company has plans for something big.
Along with its expansion into North San Jose, Apple has also purchased or leased office space in other Bay Area locations. In early October, Apple signed a deal for a 770,00 square foot campus in Sunnyvale, and back in June, it leased 76,000 square feet of office space in the popular (and pricy) South of Market (SoMa) neighborhood in San Francisco.