Apple Purchases Massive 43-Acre Development Site in North San Jose
Shortly after leasing a 300,000 square foot campus in North San Jose, Apple has expanded on its real estate holdings in the area, buying a 43-acre development site at 2347 North First Street for more than $138 million.
According to the Silicon Valley Business Journal, the site, which consists of undeveloped land, is approved for up to 2.8 million square feet of office space, much like Apple's Campus 2 location in Cupertino. Apple has not submitted building plans for the site, and it is unclear what the company plans to do with the land.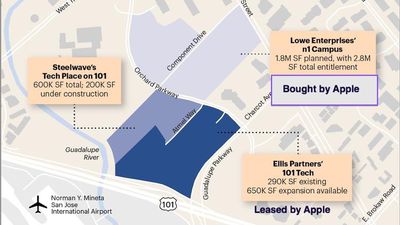 Map showing land bought by Apple and other available real estate in the same North San Jose area
Apple is expanding rapidly in the Bay Area. In addition to the second Cupertino campus and the 300,000 square feet of space leased in San Jose in July, the company made its
first real estate lease in San Francisco
last week, signing a deal for 76,000 square feet of office space.
Along with office space, Apple is also said to be seeking additional space for both industrial purposes and research and development, possibly for undisclosed projects like its Apple Car.

What's interesting in the latest transaction is that Apple opted to buy, not lease. It's possible Apple wants more control over whatever it does there, and simply felt more comfortable owning the land. In addition to office space, Apple has been in the market for broad swaths of heavy R&D and industrial space, industry observers tell me. The latter could be read as a tantalizing sign of Apple's interest in manufacturing, though such a possibility is for now market speculation.
The land that Apple purchased in North San Jose is located approximately 12 miles from its 1 Infinite Loop campus in Cupertino and is across the freeway from the Mineta San Jose International Airport. North First Street is already home to other major companies like Cisco and Samsung.
Update August 4, 5:57 AM: Apple has given a statement to Silicon Valley Business Journal regarding its general plans for the site.
"As we continue to grow, we're planning to build R&D facilities and some additional office space in San Jose," spokeswoman Rachel Wolf said in an emailed statement. "The property isn't far from the future home of our new campus and we're looking forward to expanding our presence in the Bay Area."