Apple Expands in North San Jose With Lease of 'Tech Place on 101' Building
Apple has leased Tech Place on 101, a 202,000-square-foot building under construction at 2509 Orchard Parkway in north San Jose, California, according to the San Jose Mercury News. The new building is located next to a large parcel of vacant land, owned by realty firm Steelwave, where up to two more office buildings could be built to accommodate around 3,000 workers.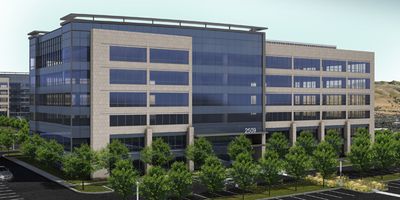 Steelwave render of Tech Place on 101 building in north San Jose
Apple, headquartered in nearby Cupertino, has been steadily expanding its presence in the Bay Area. In north San Jose, it owns or leases multiple properties along Orchard Parkway, between North First Street and U.S. Highway 101, including the
296,000-square-foot 101 Tech R&D building
and a massive
43-acre development site
approved for up to 2.8 million square feet of office space.
Apple's north San Jose campus could potentially employ up to 20,000 workers.
"They are taking this building to control that entire neighborhood," said David Vanoncini, a managing partner with Kidder Mathews, a commercial realty firm.

If all the sites were built out to their full capacity, over time, Apple potentially could employ up to 20,000 workers on the north San Jose properties.
The company also reportedly expanded into San Francisco for the first time in July, leasing a 76,000-square-foot office space in the popular South of Market (SoMa) neighborhood, and further bolstered its Bay Area presence by acquiring a 770,000-square-foot property in Sunnyvale.


Apple now has real estate in five Bay Area cities, including Cupertino, San Francisco, San Jose, Santa Clara and Sunnyvale. In addition to its One Infinite Loop headquarters, the iPhone maker continues development on its nearby "Campus 2" project, which remains scheduled for completion in late 2016.