Apple has acquired additional land in the Bay Area, inking a deal with Landbank Investments for an upcoming 770,000 square-foot campus at Central and Wolfe in Sunnyvale, California. According to the Silicon Valley Business Journal, Apple has leased the property for an undisclosed amount of money.
The upcoming campus is notable because current plans call for an amorphous design that eschews the traditional square office building. The space is advertised via the website "Not Another Box," which describes the curved structure as "the blending of art, science, and nature." It is not yet known if Apple's deal for the space will call for modifications on the planned design, however.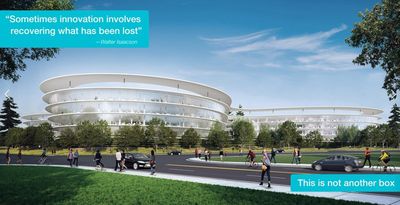 One caveat: It's unclear whether the project will be built according to that design, from architecture firm HOK, or if Apple and Landbank will want to modify it in some way. At this time there's no indication it will change substantially, and indeed Landbank has made the signature look a key selling point, with a website that highlights the out-of-the-box design. (That same website also features a quote from Walter Isaacson, Apple co-founder Steve Jobs's biographer.)
Construction of the Central and Wolfe campus was approved last year and will see nine existing buildings razed in favor of a new structure. The location is approximately five miles north of Apple's second campus in Cupertino and is near other Apple office buildings in the Sunnyvale area.
In recent years, Apple has been expanding rapidly in the Bay Area near its main Cupertino campus. In addition to its "Spaceship" campus that's already under construction, Apple has also purchased a large swathes of land in North San Jose and it has bought office space in San Francisco.