New Apple TV Tidbits: Limited App Discovery, User Guide, Amazon Pulls Apple TVs, and More
The new Apple TV officially launched today at Apple Stores and select resellers in the U.S. and other first wave countries. As customers begin receiving their new Apple TV deliveries around the world, the following are useful tidbits about the new fourth-generation device.
Apple TV Support and User Guide - Forum Discussion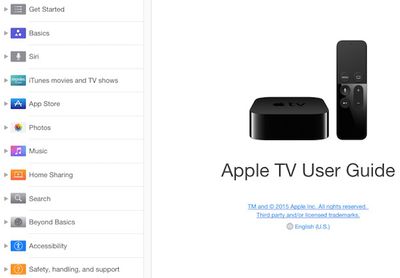 Apple has updated its Apple TV Support portal for the new Apple TV, including an official Apple TV User Guide that contains detailed information about how to set up and use the streaming box. The user guide is broken down into several categories: Getting Started, Basics, Siri, iTunes, App Store, Photos, Music, Home Sharing, Search, Accessibility, Safety and more.
Apple TV apps - Forum Discussion
iMore
has shared a video that scrolls through all of the new Apple TV apps currently available through the tvOS App Store. Due to the current
lack of discoverability
, the video searches tvOS apps based on their first letter in alphabetical order.
Eli Hodapp at our sister website TouchArcade explains in his Apple TV first impressions:
If screenshots on Apple pages are any indication, categories for the Apple TV App Store are coming (maybe?) but as of this writing, there's a distinct division between the haves and the have-nots in the Apple TV app world. Currently, the Apple TV App Store only shows what's featured. If your game isn't featured, it effectively doesn't exist. There's no way to browse genres, top lists don't exist (this arguably might be a good thing), and finding something that isn't featured requires typing its name in the search field.
MacRumors recently published an Apple TV apps roundup that goes into more detail about some of the new apps and games, including Airbnb, Alto's Adventure, Crossy Road, Plex, Sing! Karaoke, Withings Home and more.
Charging and Using the Siri Remote - Forum Discussion
Apple has published a support document with step-by-step instructions on how to charge your Siri Remote and get help if it isn't working. Apple TV will alert you when your Siri Remote needs to be charged, or you can manually check the remote's charge by navigating to Settings > Remotes and Devices > Bluetooth and selecting the remote.


In countries and regions that support Siri, the remote is called the Siri Remote. Elsewhere, it is called the Apple TV Remote, but has identical functionality otherwise. International users can easily access Siri by changing their Apple TV's region to the U.S. or other supported countries.
Amazon Removes Apple TV

Apple TV and Chromecast devices are no longer listed on Amazon
Following through with
its plans
, online retailer Amazon has removed all Apple TV and Chromecast listings from its website, per
Variety
. Amazon removed the Apple and Google streaming media players because they are incompatible with its Prime Video streaming service, which it believes may cause confusion for customers.
In a statement provided to BuzzFeed News, Apple emphasized that the lack of Prime Video support on the new Apple TV is solely Amazon's decision.
Incidentally, that Amazon Prime Video is the exception to the conga line of content offerings above is entirely Amazon's doing. A ~magnanimous~ Apple tells BuzzFeed News that "all are welcome" on its new Apple TV platform. But Amazon — which recently purged Apple TV from its store — doesn't have a Prime Video app in the Apple TV App Store. And as of a few days ago, it hadn't submitted one.
Amazon told BuzzFeed News the company "doesn't have anything to share" on the topic.
Visit the Apple TV section on the MacRumors discussion forums for more tidbits.