Apple Watch Hermès Collection Debuts in Select Apple & Hermès Retail Stores
Apple today officially launched the Apple Watch Hermès collection, which the two companies announced at the September 9 "Hey Siri" event. The collection includes three different strap options for customers -- Single Tour, Double Tour, and Cuff -- alongside a stainless steel Apple Watch casing. None of the new Hermès bands are available to purchase separately, however, and are only included in one of the collection's ten available models.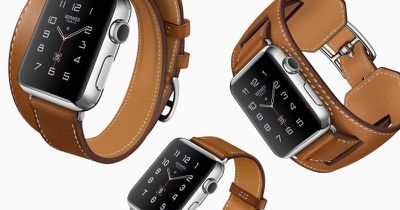 Hermès offers four different colored versions of the Double Tour band, including Bleu Jean and Etain gray, but only in 38 mm sizes. Those interested in the Single Tour can choose between three different colors, two of which come in both 38 mm and 42 mm, but one -- the red-tinted Capucine Leather band -- is only offered in 38 mm. Alternatively, the Cuff option is a bit more simplistic for buyers, due to its availability in one single color and size option: a Fauve Barenia Leather Band with a 42 mm casing size.
Anyone interested can expect to pay above the average price point for the Apple Watch's mid-tier stainless steel range: the Single Tour starts at $1,100, the Double Tour costs $1,250, and the Cuff comes in at the most expensive with a $1,500 price tag. No models in the collection will be made available online, but instead are set to be offered at select Apple Store and Hermès retail locations in North America, Europe, and Asia.