Apple's Annual Back to School Promotion Still Nowhere to Be Found
For many years running, Apple has offered a Back to School promotion for students and educators, providing discounts on Apple products ahead of the coming school year. Back to School promotions have kicked off on the first Tuesday of July for the last two years, so when July 6 came and went without a Back to School announcement, many people began wondering when Apple would launch the 2015 promotion.
We've been receiving questions about the Back to School program for several weeks now, and in mid-July, there's still no sign of an imminent launch. Some have wondered whether Apple is canceling the program all together, but it's too early to say. It may be late in the month, but there are still several weeks to go before kids and teachers begin returning to classrooms.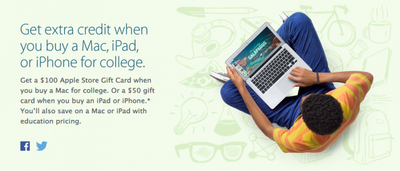 Apple's 2014 Back to School Promotion


Historically, the latest Apple has launched a previous Back to School program was July 2, and that was in 2013. From 2006 to 2012, Back to School kicked off in May or early June, while it launched in July in 2013 and 2014. It's entirely possible that Apple has simply decided to launch the promotion a bit later in the year, once again adjusting the dates as it did in 2013.
MacRumors has spoken to several retail employees who often hear word on Back to School a few days ahead of its debut, but so far, no one we've contacted has heard anything from Apple. The last Back to School promotion Apple introduced was for Australian customers in January of 2015.
Apple's Back to School promotion is highly anticipated because it's one of the few times a year that Apple offers deals to customers, and many hold off on summer purchases until the event begins. Last year, Apple's Back to School offer included a $50 to $100 Apple Store Gift Card with the purchase of a Mac, iPhone, or iPad, while years past included a $50 to $100 App Store Gift Card.
In the early days of the Back to School promotion, deals were offered in the form of rebates that provided a free iPod with the purchase of a Mac, but Apple has offered gift cards instead of iPods since 2011.