Apple's annual "Back to School" promotion has returned to Australia and New Zealand, as spotted by 9to5Mac. The sale offers an Apple gift card worth between $25 to $100 to university students, students accepted to a university, parents buying for a university student and faculty that purchase a qualifying Mac, iPad or iPhone.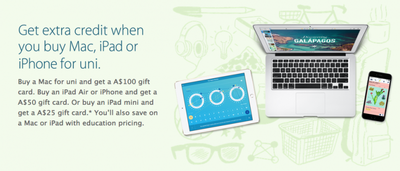 The list of qualifying products includes the MacBook Pro, MacBook Air, iMac, Mac Pro, iPad Air 2, iPad Air, iPad mini 3, iPad mini 2, iPhone 6, iPhone 6 Plus, iPhone 5s and iPhone 5c. Eligible customers can combine the Back to School promotion with Apple Education Pricing for additional savings. The sale runs January 30 through March 19.
Apple holds a similar Back to School promotion in the United States during the summer months, offering Apple Store gift cards of equivalent amounts for new Mac, iPad and iPhone purchases. That sale typically runs from July through September and is also offered in Austria, Belgium, Canada, Denmark, Finland, France, Germany, Ireland, Italy, Netherlands, Norway, Spain, Sweden, Switzerland, and the United Kingdom.