iOS 9 Code Suggests 12.93-Inch 'iPad Pro' Could Have 2732×2048 Display
Taiwanese iOS developer Hiraku Wang has shared further iOS 9 beta code (via Steven Troughton-Smith) that suggests the 12.9-inch "iPad Pro" could have a 2,732×2,048 pixels display at 264 PPI based on Apple's @2x high-resolution modifier. The findings corroborate a DisplaySearch report from last January, in which the research firm said that Apple had a tablet display with a resolution of 2,732×2,048 pixels and 265 PPI under development.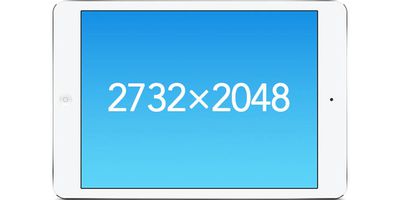 Apple's existing lineup of iPads with Retina displays, ranging from the third-generation iPad to iPad Air 2, each have 9.7-inch screens at 264 PPI, so it would make sense that the larger 12.9-inch "iPad Pro" would have a scaled up resolution with the same pixel density. Specifically, a 2,732×2,048 display with 264 PPI points towards an approximately 12.93" diagonal screen size. As a @2x display, this would represent 1,366x1,024 points as shown in the onscreen dimensions for the keyboard.

Earlier today, iOS developer Steven Troughton-Smith discovered that the
new iPad keyboard on iOS 9 beta
is capable of scaling to a larger size with rearranged keys, providing further evidence that Apple could be planning to release the much-rumored 12.9-inch "iPad Pro" in the future. The A9-based tablet is rumored to feature a
flexible display
with increased pressure sensitivity, built-in
NFC chip, Force Touch, USB-C port
and possibly a pressure-sensitive Bluetooth stylus.