iOS 9 iPad Keyboard Scales to Larger Size, Hinting Towards 'iPad Pro'
iPhone developer Steven Troughton-Smith has discovered that the new iPad keyboard on iOS 9 beta is capable of scaling to a larger size with rearranged keys, providing further evidence that Apple could be planning to release the much-rumored 12.9-inch "iPad Pro" in the future.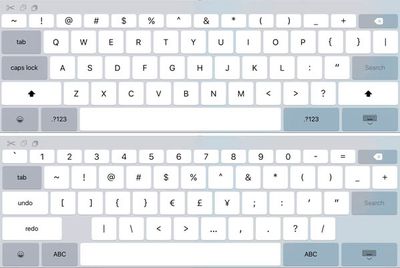 At a larger resolution, the UIKeyboard view automatically adjusts with repositioned keys to fill the extra screen space available. Specifically, the new keyboard has wider keys, a new row of symbols at the top, Caps Lock and Tab keys on the far left and some other moved keys.
The secondary keyboard view has also gained the new chiclet-sized row of symbols and has enough room to fit all symbols and characters on one page, potentially eliminating the need for a tertiary keyboard view normally accessed by tapping the "#+=" button on the left or right.
iOS 9's new Slide Over, Split View and Picture in Picture features on iPad Air 2 further suggest that Apple may be working on a larger iPad, as the new split-screen multitasking views would be ideal for a larger screen and could benefit from the tablet's increased processing power.
The so-called "iPad Pro" is rumored to feature a
12.9-inch flexible display
with increased pressure sensitivity, built-in
NFC chip, Force Touch, USB-C port
and possibly a pressure-sensitive Bluetooth stylus. The tablet would also likely have an A9 processor with 2GB of RAM and Touch ID.