The much-rumored 12.9-inch so-called "iPad Pro" will feature a built-in NFC chip, pressure-sensitive Bluetooth stylus, Force Touch and USB-C port, according to AppleInsider. The report, citing a source familiar with Apple's future product plans, also claims that the larger iPad will have a new touchscreen with improved latency and unsurprisingly be powered by Apple's latest A-series processor.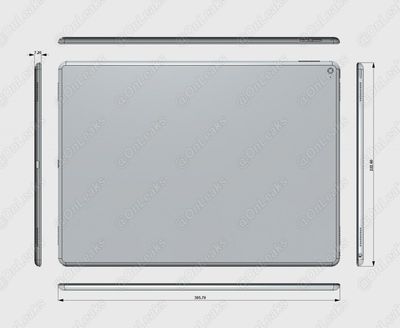 The inclusion of an NFC chip will enable the iPad Pro to be used as an Apple Pay payment terminal, although it is unlikely the tablet itself will have tap-to-pay functionality, according to the report. Apple Pay contactless payments are currently limited to the iPhone 6 and iPhone 6 Plus, and iPhone 5, iPhone 5c or iPhone 5s when paired with an Apple Watch, in the United States.
Meanwhile, the report corroborates well-informed KGI Securities analyst Ming-Chi Kuo's claim that the iPad Pro will feature an Apple-built stylus, which AppleInsider says will connect via Bluetooth and allow pressure-sensitive input. The iPad Pro's display will also reportedly feature Force Touch, a technology that distinguishes between a tap and a deep press on the screen.
The report adds that the iPad Pro's USB-C port will either replace or supplement the Lightning connector equipped on other current iPads:
"The source also said that Apple's new, larger iPad will also feature a USB-C input, though they didn't indicate whether it would be a new, second port option, or if USB-C would replace the Lightning connector found on current iPads. Cases based on allegedly leaked "iPad Pro" designs have included spaces for two port openings, leading to speculation that Apple could potentially include both USB-C and Lightning, or offer docking capabilities in two different orientations."
Many of these rumored iPad Pro features have been reported by other sources over the past year, including The Wall Street Journal, Bloomberg and Kuo.
The report stops short of providing a release timetable for the iPad Pro, although The Wall Street Journal reported in March that Apple is planning to begin mass production of the device in September following some internal setbacks. Apple typically refreshes its iPad lineup in October, and it's possible the iPad Pro could launch around that time if there are no further production delays.