Apple Looking to Sign Drake, Pharrell and David Guetta as iTunes Radio Guest DJs
Apple is in talks to sign Toronto-born rapper Drake, hip-hop artist Pharrell Williams and electronic music DJ David Guetta as guest DJs for a revamped iTunes Radio, according to the New York Post. The report also claims that Apple continues to negotiate with record labels for Apple Music and wants to offer a three-month free trial period for the $10-a-month streaming music service.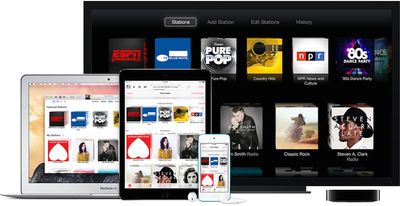 Apple Music will reportedly combine the best features of Pandora, Spotify and YouTube into one service, including streaming music and video, artist pages, a YouTube-style sharing section called Apple Connect and a refreshed version of iTunes Radio. Apple also wanted to offer lyrics as part of the service, but does not want to pay extra to record labels to offer the feature.
Apple is expected to announce its new streaming music service on June 8 at its annual Worldwide Developers Conference in San Francisco, building upon the assets it acquired through its Beats Music purchase last year. The company will reportedly push customers to sign up for Apple Music by offering SoundCloud-like sharing, exclusive content and the aforementioned three-month free trial period.