Apple Watch Orders Estimated to Average 30,000 Per Day in U.S. After Initial Surge
An estimated 2.5 million Apple Watch orders have been processed in the United States in the first five weeks of availability, according to Slice Intelligence (via Quartz). Extrapolating from the e-receipts of about 14,000 online shoppers who use Slice's services, more than half of the orders placed so far came on April 10, the first day of pre-orders, with the Apple Watch averaging 30,000 orders per day since.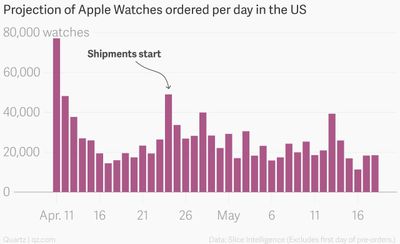 Daily Apple Watch order estimates in U.S. (first-day orders of nearly 1.5 million omitted)
As
Quartz
points out, the Apple Watch saw a notable rise in order interest on April 24, the day most initial Apple Watch pre-orders that weren't high in demand, like the
Leather Loop or Black Sport band
, began
arriving to customers
. Social media posts and word of mouth that day no doubt helped Apple receieve a few extra orders, and it reaches back up to around 40,000 on a few days in April and May, but otherwise Apple's new wearable has seen a steady decline in order numbers since its launch date, according to the e-commerce shopping firm.
Even with the steep decline following the start of pre-orders, Apple Watch sales are easily outpacing early sales of the iPod and iPhone, and slightly topping those of the iPad, although Apple's continually increasing user base since the debut of those devices gives the company momentum for each subsequent product family launch.
Slice Intelligence's Apple Watch update today comes a few weeks after providing a break down of initial pre-orders for the wearable, which pegged 62 percent of customers as having pre-ordered the Apple Watch Sport and an unexpected popularity of the Space Gray case and Black Sport band. As with that data, a few factors should be taken into account when looking at Slice Intelligence's order estimates, including its data being limited to the United States and the relatively small pool of customer receipts examined.
Today's report also falls in line with KGI Securities analyst Ming-Chi Kuo's prediction of the Apple Watch order demand beginning to slow down following a high launch period. Although Apple has yet to announced any sales numbers for the Apple Watch and doesn't plan to break the device out into its own reporting segment in financial results, the Apple Watch's entry into the company's upcoming brick-and-mortar retail locations in June could help boost the wearable's sales figures.