Apple Watch Pre-Orders Now Shipping for April 24 Delivery
Apple has notified many Apple Watch pre-order customers in the United States and other first wave launch countries to confirm that their orders have shipped, with deliveries starting on April 24 as scheduled. All customers should now have access to a tracking number through UPS or another courier service to track their Apple Watch pre-orders leading into Friday's launch.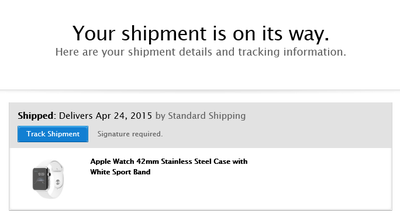 With the Apple Store's order status finally updated in tandem with a few early notifications customers have received from services like UPS, Apple Watch pre-order customers with a confirmed shipping status can now track their package through Apple's online store. Though yesterday's UPS notifications sent out to some customers focused mostly on areas in the southern United States, this morning's official update from Apple applies to customers nationwide and in other launch countries.
Today's update comes after a week of slight confusion for most Apple Watch pre-order customers, with credit and debit card charges occurring on Monday and a handful of order status changes soon thereafter, but with most customers still left in the dark for the rest of the week despite placing pre-orders early on April 10. This morning's news should come as a breath of relief for most customers who placed pre-orders as early as possible, and Apple still promises that dispatch dates beyond 4/24 - 5/8 could be coming in earlier than expected, as well.