Apple Working on 'Find My Watch' and Third-Party Watch Complications, 'TVKit' Dev Tools for Apple TV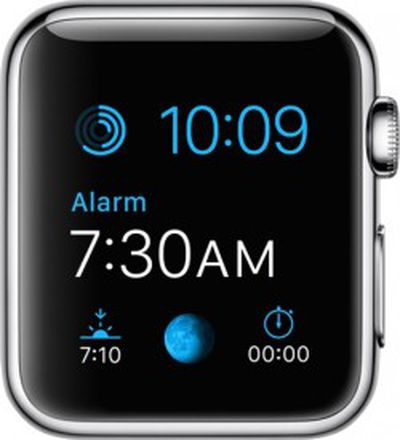 Ahead of next month's Worldwide Developers Conference, Apple is laying the groundwork for future software and hardware updates for both the Apple Watch and Apple TV, according to a new report from 9to5Mac.
Timing for some of the new features remains unclear, but the report claims Apple is working on a "Find My Watch" implementation that could be paired with a "Smart Leashing" feature that would remind Apple Watch users if they appear to have accidentally left their iPhones behind.
First, Apple has been working on a feature dubbed "Find my Watch" for the Apple Watch, which as the name implies will allow a user to track a Watch's location, as well as lock or remotely wipe it if it is lost or stolen. [...]

Given the Apple Watch's reliance on an iPhone, Apple plans to implement Find my Watch via what's currently known inside the company as "Smart Leashing." According to a source, the Watch will use its wireless signal to establish its location relative to the iPhone, and will optionally be able to notify a user if the iPhone is accidentally left behind.
The news comes following concerns over the lack of any sort of Activation Lock functionality for the Apple Watch, but the new features may require new hardware to support them, pushing their launch off until the release of the second-generation Apple Watch.
Apple is also reportedly working on support for third-party watch face complications for the Apple Watch, which would, for example, allow users to see at a glance if they have unread Twitter mentions. Additional software and hardware work is focused on filling out health and fitness functionality for the Apple Watch, including additional sensors that were rumored but did not make it into the first version of the device.
On the Apple TV front, sources claim Apple's developer tools that will allow developers to build third-party apps for the next-generation Apple TV will be known as "TVKit", with the new hardware and tools expected to debut at next month's Worldwide Developers Conference. The Apple Watch appears set to serve as a key method for controlling the new box, which will also support Apple's rumored live streaming television service, although recent rumors have suggested that piece of the overall package may debut several months later than the hardware.
Apple's WWDC keynote is expected to see a significant number of announcements, including the new developer tools for Apple TV apps and native Apple Watch apps, as well as iOS 9 and OS X 10.11. As was the case last year, hardware announcements may be slim or absent entirely, particularly with updated 15-inch Retina MacBook Pro and 27-inch iMac models expected this week.