GE to Create Intelligent LED Lightbulbs Compatible with Apple HomeKit
GE today announced plans to take advantage of Apple's HomeKit platform, creating intelligent, color-changing LED lightbulbs that will interface with iOS devices. GE's HomeKit-compatible LED lightbulbs will include GE's Align technology, which aims to improve sleep through controlling blue light output at critical times.
During the day, the Align technology is able to mimic daylight to suppress the production of melatonin for a more awake feeling, adding bright blue tones to white light, and at night, blue light is reduced to promote melatonin production and avoid disrupting circadian sleep rhythms.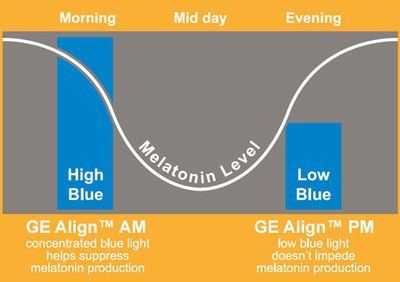 "As we continue to grow our infrastructure business by connecting our brilliant industrial machines to the Internet, it is important that consumers experience connected things in easy-to-use, everyday ways. Lighting is how many first experiment with the idea of a smart home, and our insights show that consumers want the ability to control lighting from anywhere, automate lighting and pair lighting with other devices--like sensors, thermostats and door locks," says Comstock. "We're excited to announce our support for HomeKit as it will bring a seamless, intuitive user experience using Siri and superior quality of light from America's most trusted lighting brand for more than a century."
HomeKit is Apple's home control platform that will allow Apple devices to control various connected smart home products like lightbulbs, garage doors, locks, fans, thermostats, power outlets, and more. Users will be able to give Siri commands to perform actions that will control physical objects, such as "shut off the lights" or "close the garage," with the Apple TV serving as a home automation hub.
Through HomeKit, the GE bulbs will integrate with other HomeKit-connected devices and will be able to be controlled by voice using Siri. Lightbulbs will be available for individual control and can also be organized into groups for room-wide lighting scenes.
GE's upcoming lighting project will be a direct competitor to the Philips hue line of lights, which also allow consumers to choose lighting colors based on mood and control lights with their iOS devices. Philips is also one of Apple's HomeKit partners and plans to have its hue lighting system integrate with HomeKit.
Apple's HomeKit hardware specifications were finalized in October of 2014, further paving the way for the first HomeKit devices to come to market. In January, Apple said it was "excited" about the growing number of partners bringing HomeKit products to market. Some of those upcoming products include the iDevices smart plug, Elgato's range of connected home devices, and the Schlage Sense smart lock.
We still don't know when HomeKit-enabled devices will be widely available for purchase, but GE says that its lightbulbs will be available later in 2015.