CES 2015: iDevices Announces HomeKit-Enabled 'Switch' Smart Plug
iDevices today announced its upcoming Switch smart plug, a HomeKit-enabled device that allows users to remotely control a variety of devices around the home. The system takes advantage of the existing iDevices Connected app to give users control over the plug, which plugs into a standard electrical outlet and connects to the home's Wi-Fi network to provide control over a device plugged into Switch.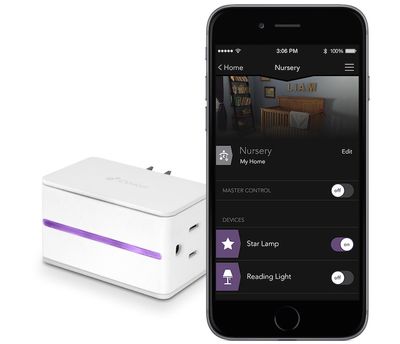 With HomeKit integration for Switch, users will be able to take advantage of a number of iOS features in the system, including the ability to use Siri to control their devices. Switch requires no dedicated hub device or subscription services, making it simple to set up.
- Siri – Switch's HomeKit integration provides an easy, secure way to control Switch using Siri on your iPhone, iPad or iPod touch. You can even create your own commands to control multiple home settings. For example, you can automatically turn off lamps connected to your iDevices Switch, lock your doors, close the garage door and set the thermostat to the desired temperature, all with one command.

- Remote Access – iDevices designed a custom IoT cloud for Switch so that users can access their home from wherever they are with no additional hub required.

- Create Custom Events and Schedules – Through the iDevices Connected app, users are able to design custom events (or schedules) that fit their lifestyle. The iDevices Switch has the unique ability to remember events and make sure they happen even when the user is away.
Switch also includes several personalization options including the ability to upload photos from around the home to personalize the control app and make it easier to identify devices, as well as a built-in highlight on the Switch itself with customizable color choices.
Switch launches later in the first half of 2015, and The Verge says the device will cost $49.99.
iHome is also announcing a similar iSP5 SmartPlug smart plug that will launch later this year, but details remain scant at this time. Like iDevices' Switch, iHome's SmartPlug supports HomeKit and is a Wi-Fi enabled plug that allows users to control individual devices without the need for a hub. iHome does tout that multiple SmartPlugs can be grouped together into "scenes" to control various devices together. Pricing and an exact launch timeframe for SmartPlug have yet to be announced.