Apple Hires New General Contractor for Apple Campus 2, Sparking Delay Speculation
As construction on its "spaceship" campus in Cupertino continues, Apple has hired a new general contractor, sparking rumors questioning whether the new campus will be finished by the company's prospective 2016 completion date.
According to the Silicon Valley Business Journal, Silicon Valley company Rudolph & Sletten Inc. will take on the buildout of the Campus 2's interior structure, a job that was previously thought to be going to DPR Construction Co. and Skanska USA, the two companies heading up the construction project.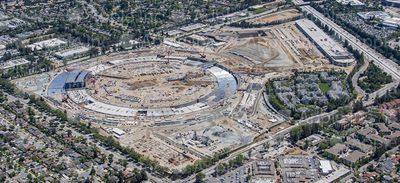 Most recent image of the ongoing construction of Apple Campus 2, from the

City of Cupertino

.
It's unclear why Rudolph & Sletten is being brought in and exactly what DPR/Skanska's involvement will be going forward. Two sources said the DPR-Skanska joint venture would still complete the core and shell -- or the basic structure -- of the circular building. It's also possible that DPR and Skanska never intended to do more than the core and shell.
Neither Apple nor the three companies involved in the construction of the main ring-shaped building would comment on the involvement of a new general contractor for the interior of the building, but sources in the local construction industry that spoke to the Silicon Valley Business Journal believe the new addition could potentially point towards delays.
Campus 2 delays could potentially end up causing the cost of constructing the massive structure to skyrocket beyond its current $5 billion estimation. Prior budgeting issues caused Apple to revise its Campus 2 plans, splitting construction into two phases to save money. Phase 1 includes the main Apple campus and several buildings like an auditorium and fitness center, while phase 2 focuses on the Tantau Development, a 600,000 square foot area housing research facilities. Plans for the second phase of construction were submitted to the city back in October of 2014.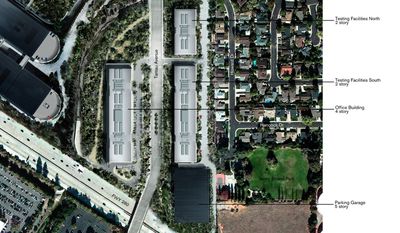 The Tantau development area
In Cupertino, the base structure for the main ring-shaped campus has
been completed
, and walls have been going up for the last several months. Construction is also continuing on an underground parking garage and several ancillary buildings
Apple's second campus will feature a massive 2.8 million square foot ring-shaped main building, an underground parking facility capable of accommodating 2,400 cars, a 100,000 square foot fitness center, and a 120,000 square foot auditorium. The entire campus will be outfitted with hundreds of trees for 80 percent green space, along with a central garden with outdoor dining areas.
Thus far, city officials have not received word of a potential delay from Apple, suggesting construction may still be on track. Apple plans to complete its new campus by the end of 2016.