Steve Jobs' Requirements for 'Fit and Finish' Leading to Massive Cost Overruns for Apple's New Campus
In a lengthy report today, Bloomberg Businessweek takes a look at Apple's upcoming "spaceship" campus in Cupertino, noting that the project is currently one year behind schedule and roughly $2 billion over budget.
Since 2011, the budget for Apple's Campus 2 has ballooned from less than $3 billion to nearly $5 billion, according to five people close to the project who were not authorized to speak on the record. If their consensus estimate is accurate, Apple's expansion would eclipse the $3.9 billion being spent on the new World Trade Center complex in New York, and the new office space would run more than $1,500 per square foot—three times the cost of many top-of-the-line downtown corporate towers.
According to the report, Apple is working to shave $1 billion from the cost of the project before beginning construction.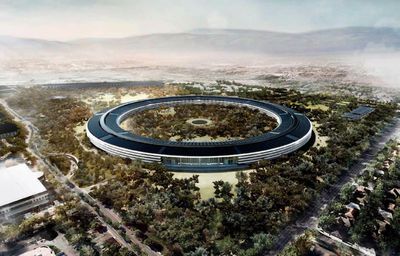 Bloomberg Businessweek pins much of the responsibility for the cost issues on Steve Jobs, whose insistence on design and construction quality as well as unusual and expensive construction methods have defined the project.
The true expense of the campus lies not in green tech, though, as much as the materials—as well as what product designers call "fit and finish." As with Apple's products, Jobs wanted no seam, gap, or paintbrush stroke showing; every wall, floor, and even ceiling is to be polished to a supernatural smoothness. All of the interior wood was to be harvested from a specific species of maple, and only the finer-quality "heartwood" at the center of the trees would be used, says one person briefed on the plan last year.
Among other unique details contributing to project costs:
- 6 square kilometers of curved glass manufactured by Seele in Germany using specialized processes to prevent clouding or distortions. Seele has doubled the size of its production facility to accommodate the project.
- Per Jobs' orders, gaps between surfaces should be no more than 1/32 of an inch, far tighter than the typical 1/8 inch standard in U.S. construction.
- Polished concrete ceilings are to be cast in molds and then raised into position to ensure uniformity, rather than being cast in place. The requirement "left one person involved in the project speechless."
The report notes that investors concerned over Apple's falling stock price and looking for the company to return more cash to shareholders are questioning Apple's commitment to following through on Jobs' vision for the new campus. The company may, however, have little choice in the matter if it seeks to maintain its image as an iconic and visionary company in the post-Jobs era.