Apple Submits Revised Plans for Second Phase of New Campus Construction
Apple has submitted Apple Campus Phase 2 architectural and site refinement plans to the City of Cupertino, signaling its readiness to begin the second phase of construction on its spaceship campus as soon as first phase construction has been completed.
In a massive 72 page PDF, Apple outlines revised plans for a set of research and development buildings located to the east and west of North Tantau Avenue, adjacent to the main circular campus building. While Apple has already received approval for the second phase of construction, the updated documents address specific changes the company is hoping to make to the area.
Constructed in a 600,000 square foot space, the Tantau Development will house 2,200 employees and will include parking facilities with 1,740 parking spots. The main Tantau building will include four stories of office space for employees along with a built-in cafeteria. Two other buildings will house two-story testing facilities.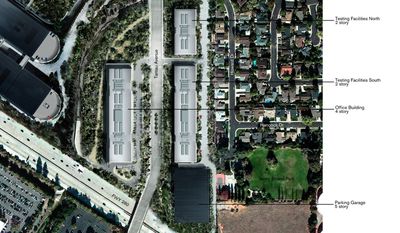 According to the revised documents, Apple's original plans for the area are largely intact, but some minor refinements have been made to address building size/height and the location of the parking facilities. The company originally planned for a parking basement, but has now shifted its plans to include both a smaller basement and a larger above ground parking structure, along with an underground server room. Apple also changed the size of the prospective cafeteria somewhat in order to accommodate more office space, and shifted the sizes of some of its planned research facilities.
Apple originally planned to begin development on the Tantau buildings alongside construction of the main circular campus building, but the company ended up pushing back all development on the site to a second phase of construction in order to cut down on initial construction costs.
It is unclear when construction on the Tantau buildings might begin, but Apple is scheduled to complete its main campus building in 2016. A city hearing to consider the updated plans will take place on November 15, 2014.