Time Warner CEO 'Pretty Confident' Apple Will Launch Streaming TV Service
During a recent earnings call relayed by CNET, Time Warner CEO Jeffrey Bewkes said he believes Apple will launch an Internet-based television service and that Apple is "very forward-thinking" when it comes to TV.
"We think Apple is very forward-thinking about television," he said, noting the computer maker's deal with Time Warner as the launch partner of streaming service HBO Now. "It's no surprise to anyone that Apple would be interested in launching a TV product."
It is not clear if Bewkes has insider knowledge regarding Apple's television plans, but Apple and Time Warner have been entwined in deals several times in the past, most recently with the HBO Now deal. Apple and Time Warner, HBO's parent company, partnered up for the HBO Now launch, with Apple's Apple TV and iOS devices being some of the first to offer the HBO Now service.
Aimed at cord cutters, HBO Now is priced at $14.99 and offers all of HBO's content without a cable subscription. Beyond HBO Now, Apple and Time Warner have discussed television many times in the past and have attempted to establish content deals, but those have yet to materialize.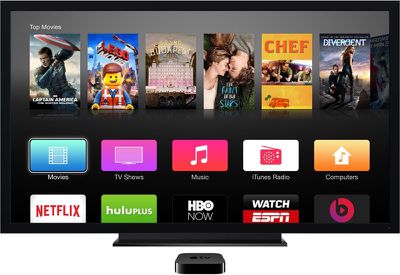 Apple's ongoing difficulties establishing content deals with companies like Time Warner have spanned several years and have repeatedly delayed its television efforts. Apple's inability to convince cable companies and content providers to change the status quo has also caused Apple to scale back on its ambitious television plans.
Apple may have begun having more luck getting companies on board with its television plans, however, as recent rumors have indeed pointed towards the imminent launch of a streaming television service and possibly a new set-top box. Apple's new service may include content from CBS, Fox, Walt Disney, and more, with approximately 25 channels available at a cost between $30 and $40 per month.
Apple's rumored streaming television service may make an appearance in June at Apple's annual Worldwide Developers Conference.