Angela Ahrendts: 'The Days of Waiting in Line' at Apple Stores Are Over
Apple retail chief Angela Ahrendts has issued an internal memo to retail employees that encourages store staff to direct customers to the Apple Online Store to purchase the Apple Watch and new MacBook, according to Business Insider. Ahrendts says that this is "a significant change in mindset" for Apple, noting that the long lines that typically form on Apple product launch days "are over" at retail stores.
"Get in line online

The days of waiting in line and crossing fingers for a product are over for our customers. The Apple Store app and our online store make it much easier to purchase Apple Watch and the new MacBook. Customers will know exactly when and where their product arrives.

This is a significant change in mindset, and we need your help to make it happen. Tell your customers we have more availability online, and show them how easy it is to order. You'll make their day."
Apple previously outlined changes to its so-called "Customer Journey" in leaked training documents obtained by MacRumors last month, emphasizing that retail employees will be focused on "reducing wait times and physical lines" and ensuring that customers get the Apple Watch that is best for them.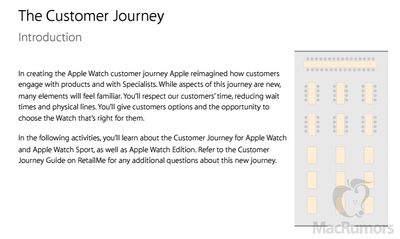 One way Apple will limit in-store waiting times for the Apple Watch is by requiring reservations for pickup at brick-and-mortar Apple Stores, although Business Insider notes that in-store pickup will not be available whatsoever to U.K. customers at launch. U.S. customers will be able to reserve for pickup, although stock will likely be tight compared to online availability.
Apple Stores will have limited in-store supply of the Apple Watch when the wrist-worn device goes on sale April 24. Apple will begin accepting online pre-orders for the Apple Watch on April 10, the same day try-on appointments will be available for customers, in the United States, Australia, Canada, China, France, Germany, Hong Kong, Japan and United Kingdom. Read how to pre-order the Apple Watch and what to expect at a try-on appointment for useful info ahead of time.